Kylie Jenner Finally Exposes The Truth Behind Travis Scott's Beef With Kanye West
17 December 2018, 11:41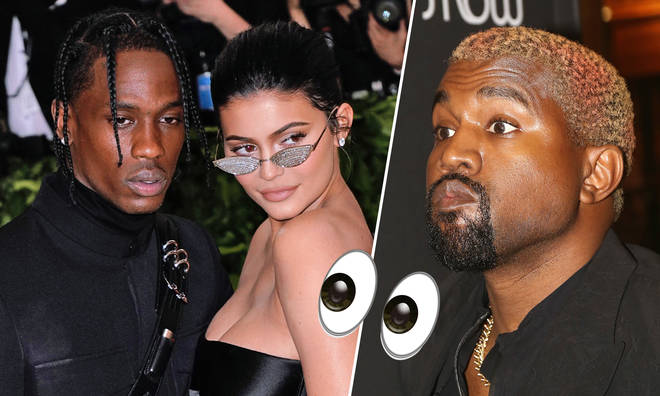 Kylie Jenner has spoken out on her boyfriend Travis Scott's rumoured feud with Kanye West. Last week, the 'I Love It' rapper lashed out at Scott for working with Drake on his song 'SICKO MODE'.
Kylie Jenner has addressed her boyfriend Travis Scott's suspected beef with Kanye West.
The 21-year-old shut down rumours of bad blood between the pair after West appeared to re-ignite his feud with Scott's 'SICKO MODE' collaborator Drake last week.
During a lengthy Twitter spree, the 'I Love It' rapper took a swipe at Scott for working with Drake on the track, with West claiming the Canadian hitmaker dissed him in lyrics that didn't make the final cut.
Someone later joked that Scott was being "petty" by supporting Nike, despite Kanye working with Adidas, after the rapper posted a selfie sporting the brands iconic tick.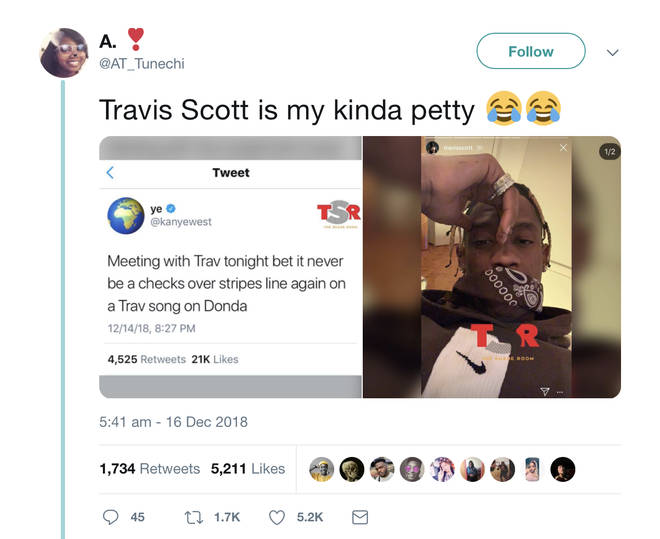 Last week, sources close to the family claimed that the Kardashian-Jenner Christmas celebrations have been "ruined" by Kanye's recent rant.
The shocking spat allegedly sent "shockwaves through the family" ahead of the festive season, with Kylie reportedly telling Kim that she and Scott are skipping the traditional Christmas Eve family party in order to avoid Kanye.
However, Kylie - who shares ten-month-old daughter Stormi with her rumoured-husband Travis - spoke out on the recent reports and claimed things have since been patched up.
"he's not being petty. this is a sweatshirt design (the sock is apart of the design). everyone is good, moved on, living life," she wrote. "for anyone who wasn't aware - travis has had a deal w Nike and still does. point is.. it's all been talked out. It's only positive energy.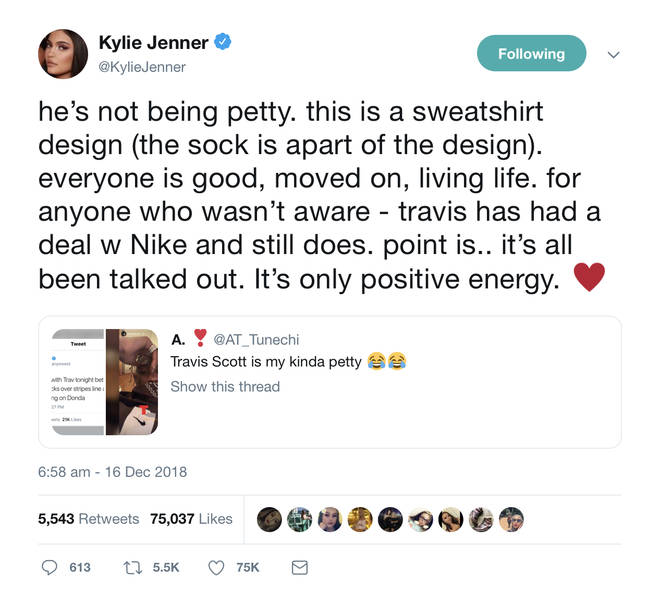 Kanye himself later took to Twitter to clarify that peace has been restored throughout the family. "Drake and Trav both love Ye more than anyone and I love those guys back," he wrote. "We love everyone."