Kanye West Disses J Cole In Explosive Leaked Verse On Pusha T's 'What Would Meek Do'
31 May 2019, 12:44 | Updated: 31 May 2019, 12:52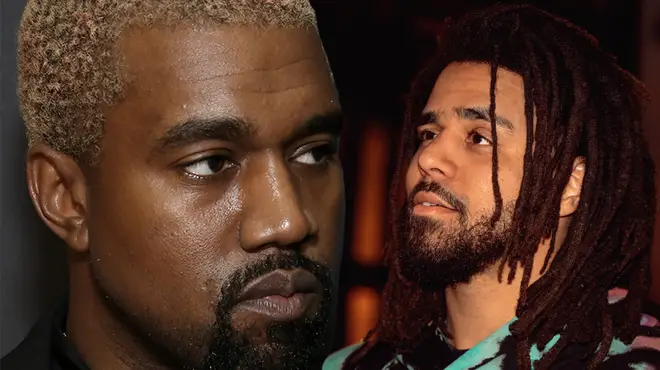 Kanye West has directly addressed his J.Cole "beef" during his unreleased leaked verse on Pusha T's song "What Would Meek Do"
Kanye West has fried shots at J. Cole in an unreleased demo of Pusha-T's Daytona track "What Would Meek Do?". The snippet of the verse surfaced online this week and has left fans in a frenzy.
Rumours of Kanye's and Cole's beef came when fans suspected that J Cole dissed Ye in two of his tracks "Middle Child" and "False Prophets".
Kanye West responds to J. Cole's disses on False Prophets & No Role Models on an old draft version of Pusha T's What Would Meek Do. Which later debuted on his album Daytona.

"You heard Cole on that song he was tryna hate." pic.twitter.com/0UOz8HCE7F

— Troy from Community (@malcolmflexed) May 30, 2019
In the leaked version, Ye directly addresses J. Cole, using his name after a bar reference.
Kanye raps: "I am the Don of Vuitton / I am the Sean of Sean John / That's the boss, ni**a".
He then referenced the Dreamville rapper, rapping "You heard Cole on that song, he was tryna hate".
Fans are suspecting the rap was a response to Cole's "False Prophets" where many fans thought he took digs at Ye.
In False Prophets, J. Cole raps:
"He's fallin' apart, but we deny it / Justifying that half-ass shit he dropped, we always buy it".
He also raps:
"When he tell us he a genius, but it's clearer lately / It's been hard for him to look into the mirror lately / There was a time when this ni**a was my hero, maybe / That's the reason why his fall from grace is hard to take."
Fans have been debating whether Cole will respond to Ye's diss, given the time space.
What do you think ?