Rihanna Appears To Respond To Chris Brown's Comment On Her Racy Instagram Post
26 November 2018, 10:54 | Updated: 26 November 2018, 11:14
'Freaky Friday' singer Chris Brown has been labelled as "problematic" by some fans for his latest interaction with Rihanna...
Chris Brown has sparked outrage on Instagram after commenting on Rihanna's latest Instagram posts.
The 'Freaky Friday' singer, who has commented on Rihanna's social media posts before, attempted to show his appreciation for his ex-girlfriend's latest Savage X Fenty advert.
Chris Brown posted a shocked face emoji underneath two Instagram posts where Rihanna was showing off her new range of lingerie.
See the posts below: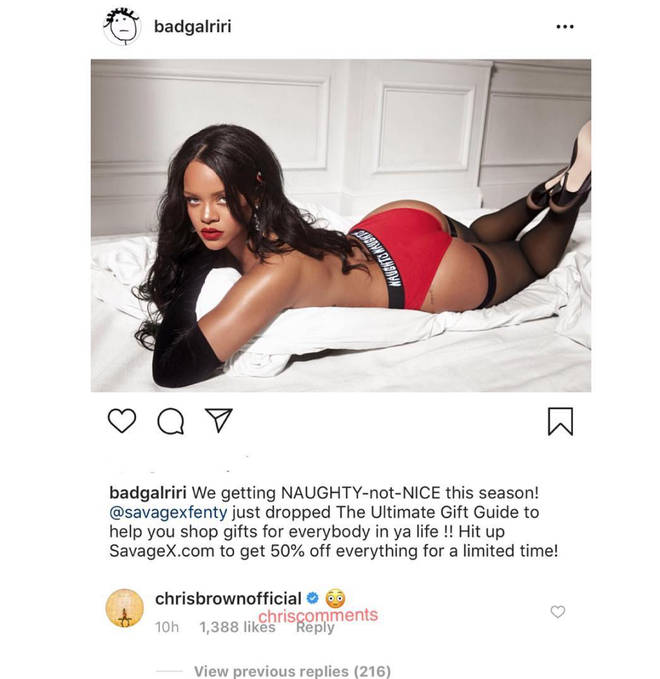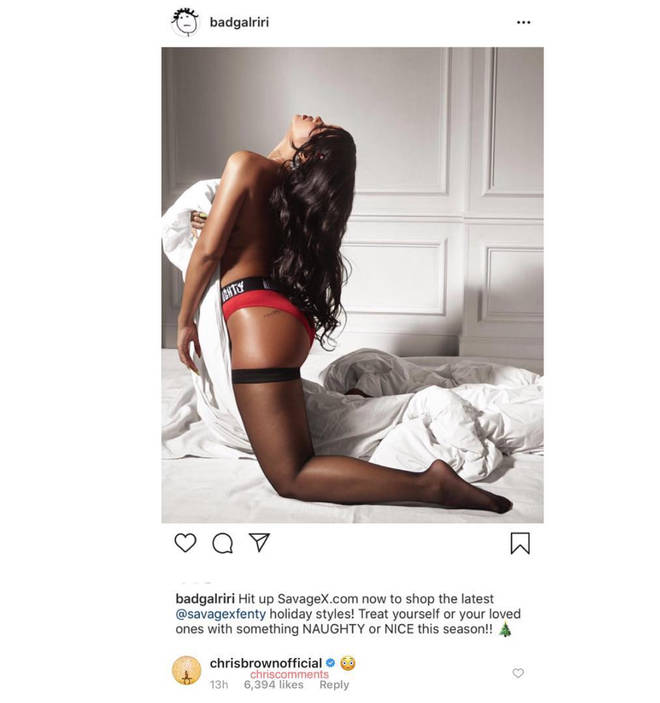 Chris Brown also wished Rihanna a happy birthday this year and even suggested that the pair could go on tour together alongside Beyonce and Bruno Mars.
However following his most recent comment to Rihanna, some fans took to social media to express their disapproval of his actions.
the fact chris brown is commenting on rihanna's pictures 🙄

— liv (@livzjones) November 26, 2018
In 2012, when Rihanna commented Chris pictures, nobody talked shit on her but when it is him ,they come on twitter to say builshit...alexa plays "nobody business by Rihanna ft Chris Brown

— l'ivoirienne❤Chris brown fan (@youmarcelle) November 25, 2018
she literally doesn't even follow him.... this is so sick and twisted.......

— 🍒 (@fentyy) November 25, 2018
Don't nobody wanna see Rihanna and Chris Brown back together

— Kiandra (@Ki_leahss) November 25, 2018
Rihanna fans mad because Chris brown left an emoji comment under rihanna pictures it's not even that serious. He's allowed to comment on her things she obviously not bothered if she hasn't blocked him.

— Marcos Garcia (@GotDeportedYolo) November 26, 2018
If y'all don't think Rihanna dont see them likes and comments y'all are idiots. I WAS AROUND IN 2012 WHEN SHE STAYED ON ALL CHRIS BROWN PAGES LIKING PICS. She knows her way around IG. And If that EVER happened again.... pic.twitter.com/G5xA1eN4zR

— Tiyah💕 (@Tobemrsbreezy) November 25, 2018
Following the backlash Rihanna allegedly took to Instagram Stories to post a scripture from the Bible.
See below: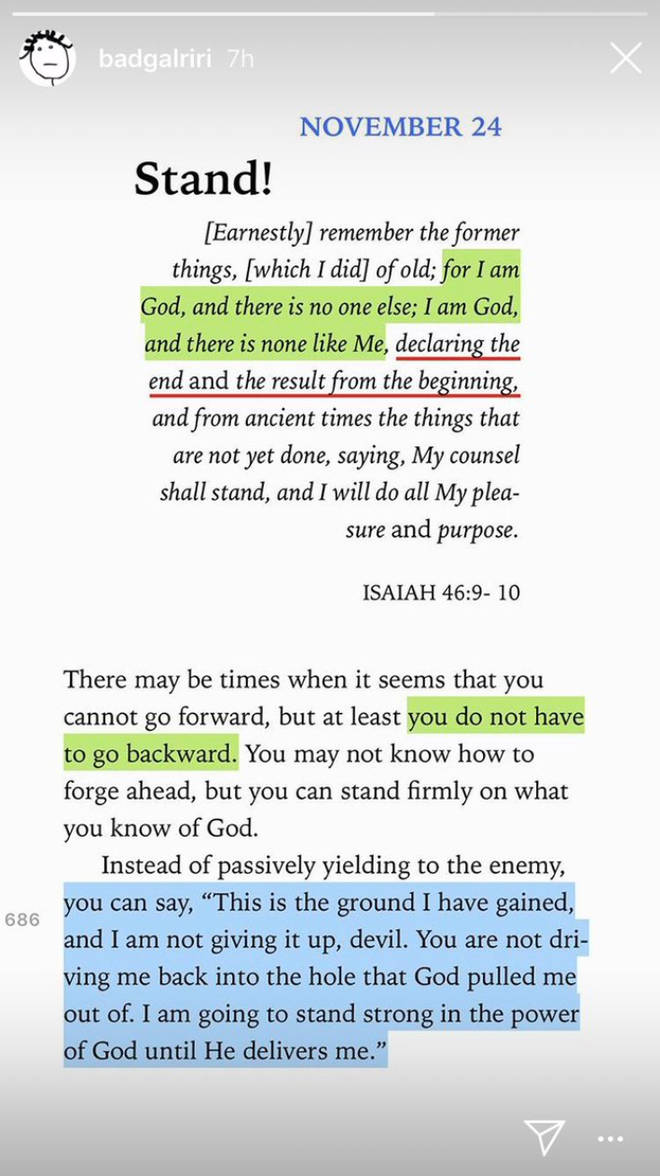 Chris Brown infamously assaulted Rihanna in 2009, following a pre-Grammy party in Beverly Hills, California.
The pair have since reconciled and collaborated on songs including Rihanna's 'Birthday Cake' remix in 2012.
Rihanna is yet to respond to Chris Brown's comments on Instagram.