Offset Responds To Cardi B Cheating Rumours With Reflective Post-Breakup Tweet
10 December 2018, 14:50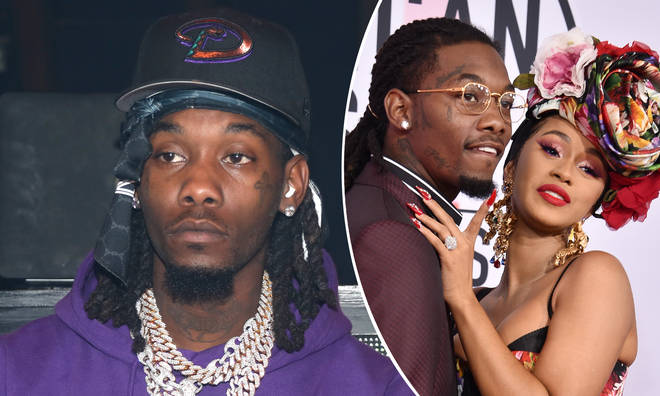 The Migos rapper took to Twitter to air his emotions after his 'I Like It' rapstress partner revealed that the pair - who married in secret last year and share a five-month-old daughter Kulture - have split up.
Offset has spoken out in the wake of his ongoing cheating claims, following his shocking split with Cardi B.
The Migos rapper tweeted that he "misses Cardi" after the 'I Like It' rapstress revealed last week that the couple had called time on their relationship after getting married in secret last year.
Fans soon began speculating the reason behind the split, before a number of text messages allegedly showing Offset trying to organise a threesome with two other women leaked online.
One of the women, named Summer Bunni, posted a tearful apology to Cardi following the message leak, claiming that she didn't realise how serious her marriage to Offset was.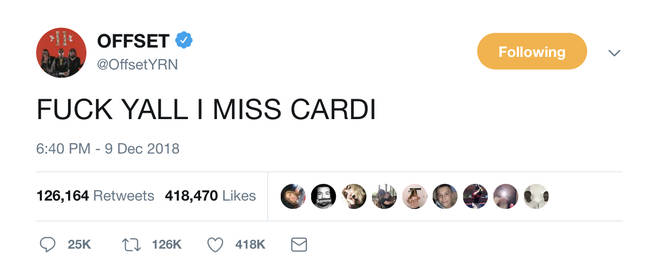 The other woman involved, a rapper named Cuban Doll, denied playing any part in Offset's infidelity, claiming that she has since spoken to Cardi and is no longer friends with Summer.
During a recent performance, Cardi - who shares a five-month old daughter Kulture with Offset - savagely changed the lyrics to 'Motorsport', her collaboration with Migos and Nicki Minaj, in light of her recent split.
In response to Offset's tweet, Cardi B fans took to Twitter to slam the 'Taste' rapper for his comment. "Any 'man' who abuses trust, respect, dignity, loyalty & love isn't worthy to be sat at the Queens table," wrote one fan. "Move along. Let her find her King."
According to TMZ, Offset remains "madly in love" with Cardi and, despite the social media backlash, is planning on doing anything he can do take her back.
Sources close to the rapper claim that the rapper feels his greatest challenge now is to "regain his wife's trust" following the ongoing infidelity rumours.