Offset's Alleged "Cheating" Partner Responds To Leaked Texts Following Cardi B Split
6 December 2018, 13:00
After Cardi B announced her split with Offset, some racy text messages between the Migos rapper and two women - Summer Bunni and rapper Cuban Doll - leaked online. And now, Summer Bunni has responded.
Cardi B announced her shock split with husband Offset this week, claiming that "things haven't been working out" between the pair for a long time.
Fans were taken aback by the news and soon began speculating as to why the couple really broke up, taking into consideration Offset's rumoured past of cheating.
Hours after Cardi's announcement, a series of alleged text messages between Offset, female rapper Cuban Doll and 20-year-old model Summer Bunni appearing to organise a threesome leaked online.
Summer went on to publicly apologise to Cardi for any harm she may have done to their relationship. "I haven't enjoyed the social media frenzy," she wrote. "Not only is it draining but humbling."
Read her message below.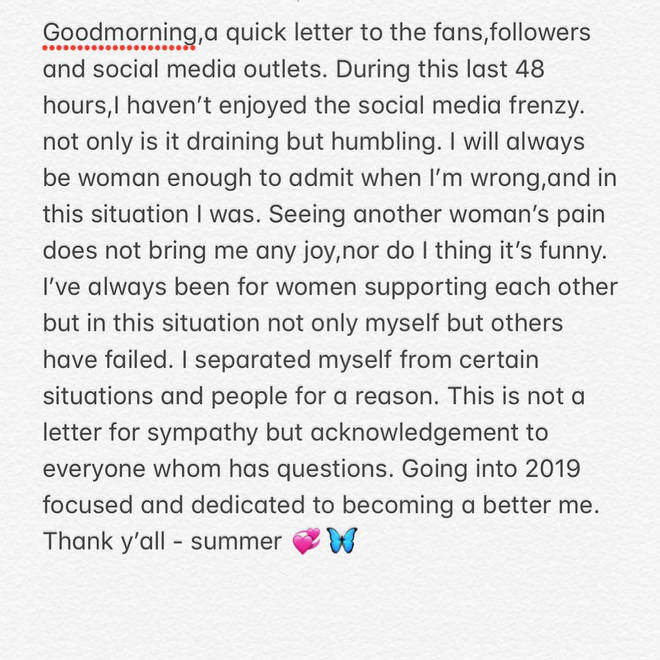 Summer also spoke to TMZ in a tearful video message, claiming she hasn't "messed with Offset" since Cardi gave birth to their baby, Kulture, but still feels guilty following the split.
"I didn't know how serious this marriage was," she says. "I feel ashamed. These were never my intentions and I never wanted to break up a happy home."
"I have not spoken to Cardi but I would like her to know I am a very genuine person and I'm not here to breakup a family and I'm very sorry this is happening," she continued.
"I just hope she can overcome this. I hope she can just focus on her love for Offset."
Cardi and Offset are yet to respond to Summer's comments. Meanwhile, the 'I Like It' rapstress shared the first photo of 5-month-old Kulture in the wake of her break-up