How old is Cardi B and Offset's daughter?
17 February 2021, 17:30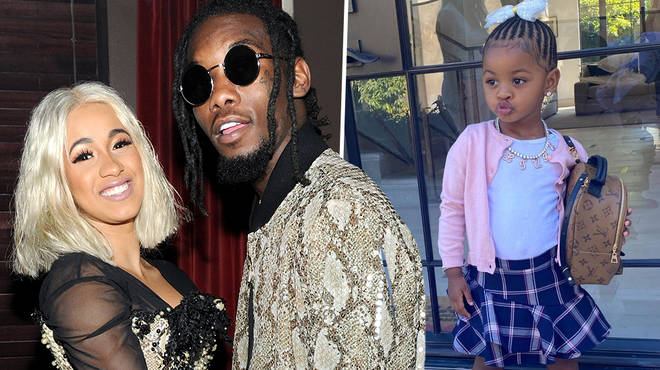 The little star is growing into a social media sensation – but how old is Kulture?
Cardi B surprised her fans when she confirmed she was pregnant in April 2018. On Saturday Night Live, the star announced her pregnancy while performing her hit single "Be Careful."
Throughout her pregnancy, Cardi B served looks and made appearances at some of the biggest events such as; Coachella, Versace Met Gala, Latin Billboard Awards and more.
While the star had been with Migos rapper Offset since early 2017, it was a shock when she announced their marriage and the star fell pregnant.
Cardi B and Offset welcomed their first child together back in 2018.
But who is their daughter? And how old is she now?
How old is Cardi B's daughter?

Cardi B and Offset's daughter, Kulture, is two-years-old. Her birthday is on July 10th and was born in 2018.

Kulture has her own Instagram, ran by her mother, Cardi B, under the account name @kulturekiari.

The account features sweet moments of Kulture growing up, modelling the cutest fits and showcases her funny personality.

See Kulture's Instagram posts below.

When was Cardi B and Offset's daughter born?

Cardi B and Offset's daughter Kulture, was born on July 10 in 2018. Their daughter's full name is Kulture Kiari Cephus.

The pair welcomed their first child together, Kulture, one year after they had a secret marraige.

Cardi B shares sweet video of Kulture eating her baby food.

Picture: Instagram

However, fans have had their fair share of opinions on Cardi B and Offset's parenting over the years.

Most recently, Cardi B clapped back at fans who judged her for allowing Kulture to still have a pacifier at two years old.

One Twitter user wrote "CARDI KNOW KULTURE TOO DAMN BIG FOR THAT PACIFIER" while another added "Cardi b know she wrong still letting Kulture suck a pacifier".

In a tweet, Cardi responded the criticism, writing "Some kids are not like YOUR KIDS. Some kids don't leave they paci fast or bottle or potty trained faster then others"

Kulture enjoying the boat trip with her parents celebrate Valentine's Day.

Picture: Instagram

She continued "Some kids are cool ,calm some like to play and are super active that barely naps (mine) stop tellin moms what to do with their kids. All kids are different."

In July last year, Cardi defended her husband Offset after he bought Kulture a $8,000 Hermes Birkin bag on her second birthday.

Cardi B also were criticised for buying Kulture a diamond chain and spoiling her on her first birthday..