What is Cardi B & Saweetie's relationship like? Are they friends?
9 February 2021, 12:42 | Updated: 12 February 2021, 17:05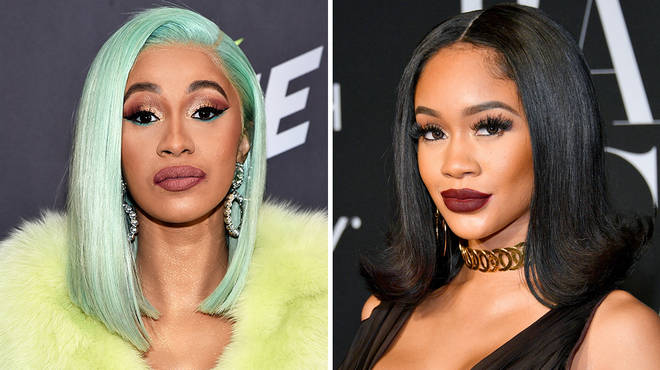 Rumours have spread that the pair have beef, sparked by a photo on Twitter.
Cardi B and Saweetie are two rappers who have found extreme success in the pop music scene.
The pair are admired for their unique rap styles, creative flare, sense of style and vibrant personalities.
They also make hit songs, which often chart in high positions and go on to be the trending topic on social media.
While the pair are connected through their partners, Offset and Quavo, fans are wondering why the pair rarely are seen together.
What is their actual relationship like? Are Cardi B and Saweetie friends?
Do Cardi B and Saweetie have beef?

Although Cardi B and Saweetie have been spotted out in the same circle a few times in the past, fans are convinced that there's an underlying beef between them.

The rumours were fuelled after Cardi, Offset, and Quavo watched the Super Bowl live from a luxury box in Tampa Bay.

However, Saweetie apparently seemed to simply be watching the event on television, despite also being in Tampa for her Saweetie Bowl.

One fan took to Twitter, writing: "Where's my baby, Saweetie? It's like I can never catch my 2 girls in the same frame," after seeing a picture of Cardi B, Offset, and Quavo all together at the Super Bowl.

Many fans suggested that Saweetie may have not have been at the event due to her supposed beef with Cardi B.

Some fans on Twitter are referencing Cardi's new song "Up", where she spits one of Saweetie's catchphrases, "I know that's right", in a similar cadence.

One fan wrote "Im wondering how saweetie feels about cardi using ha catchphrase", while another wrote "I hope @Saweetie got her check from @iamcardib IKTR..!!!"

See fan tweets below.

Are Cardi B and Saweetie fans of one another's music?

In a 2018 Q&A with her fans, Cardi B was asked to name her favourite rising female rappers.

The "Bodak Yellow" rapstress revealed that she really liked Saweetie, who had been on the rise following the release of 2017's "Icy Grl."

Migos, Cardi B, Saweetie, and Quavo attend the 2019 Billboard Music Awards. Picture: Getty

In an interview that same year, Saweetie returned a similar sentiment in an interview with Revolt TV. "I love her energy. She's popping, she's cute," Saweetie told the publication.

Saweetie even revealed that she would be open to going on a double date with their partners, Quavo and Offset from the rap group Migos.

"That would be cute," the star told The Dana Cortez Show.

Did Cardi B and Saweetie tour together?

Cardi B and Saweetie have met a couple times, including when Saweetie joined Cardi B for a stop for her 2019 tour.

"I'm just so excited to be able to open for her 'cause she's really dominating the game right now," Saweetie told Hard Knock TV.

The star continued "I'd even like to sit down with her and just, like, hear some tips 'cause I'm a learner, so I just like to know what's going on so I can perfect what I'm doing."

The "Back To The Streets" rapstress joined Cardi B at a show in Tulsa, Oklahoma in July 2019.

After the show, Saweetie took to Instagram to thank Cardi B for allowing her to be part of the tour.

Saweetite wrote: "Thank you @iamcardib for this opportunity 💙 show 1 was amazing thank you Tulsa!! #BardiGang & #IcyGang was in the house tonight ❄️❄️"

Have Cardi B and Saweetie collaborated on any music together?

Cardi B and Saweetie have yet to collaborate on music. However, some fans believe Saweetie may be on the remix to Cardi B's new single 'Up'.

While Cardi B has yet to release her forthcoming album, fans are suspecting that Saweetie could potentially feature on the project.

Saweetie and Cardi B spotted sitting next to each other at the Huncho Reality "The Album Release Experience in 2019. Picture: Getty

On Wednesday (Feb 10) Cardi B's sister shut down rumours that the two raptors have beef, while teasing that they may collaborate soon.

After a fan called out Cardi's sister, Hennessey Carolina, for allegedly shading Saweetie in a video where she speaks about facial fillers, she replied.

Hennessy Carolina clears up rumours that Cardi B and Saweetie have beef.

Picture: Instagram

"I never followed sawtie [sic] so wtf are you talking about and secondly saweetie manager and cardis spoke yesterday about a project so stop trying to create narratives! Feen!"