50 Cent Responds After Tekashi 6ix9ine Savagely Mocks His Career
24 September 2018, 11:14 | Updated: 26 November 2018, 16:12
50 Cent has met his match...
50 Cent has responded after Tekashi 6ix9ine mocked his career by recreating scenes from his classic music videos 'In Da Club' and 'Candy Shop'.
The New York rapper, who calls 6ix9ine his "son", sparked the feud over the weekend after calling him gay for wearing a sparkly jacket while at the Latin Grammys.
After seeing 50 Cent's controversial Instagram Story, 6ix9ine fired back by mocking his most famous music videos.
"I'm going back to 50 cent's career anybody want something? #getthestrap 😩Go tell pops he better chill," 6ix9ine captioned his first post recreating 'In Da Club'.
"50 not as cool as me," he captioned the second video of himself recreating scenes from 'Candy Shop'.
See the videos above.
50 Cent, who is known for his own Instagram trolling, hilariously responded to Tekashi 6ix9ine's 'In Da Club' video.
"Ok my baby boy is back, he had on a sparkle jacket like puffy," he said.
"l thought he was gay, saying he don't want to be the KING OF NEW YORK but now he is focused. We are fine LOL."
He also responded to 6ix9ine's 'Candy Shop' video, writing: "Tell me my kids not cool now. LOL he is so talented look at him, puffy's kids can't do that. get the strap."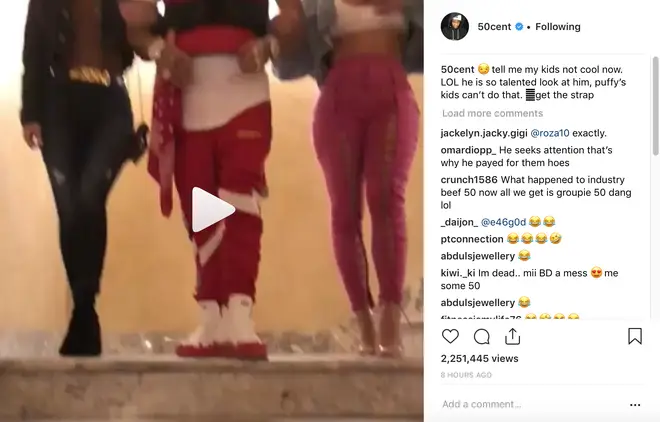 50 Cent then began recreating famous movie posters to include Tekashi 6ix9ine.
The pair recently collaborated on a song called 'Get The Strap' that premiered during the finale of Power Season 5.
Meanwhile, 50 Cent also recently responded to Eminem's recent 'Killshot' diss track, claiming that every rapper took a loss because of it's huge success.