50 Cent & Tekashi 6ix9ine's 'Get The Strap' Collaboration Rumoured To Appear On Power Season 5
6 August 2018, 10:20 | Updated: 6 August 2018, 10:25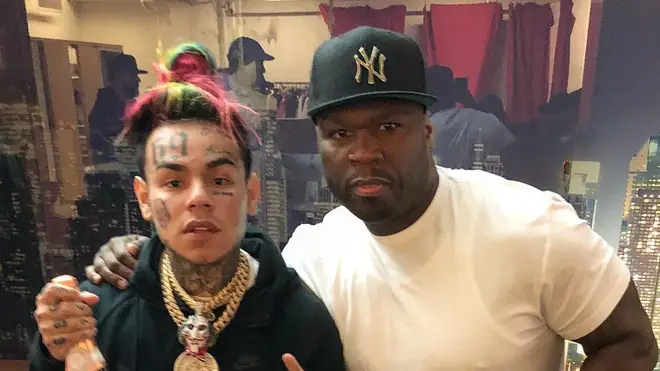 Is 6ix9ine set for another big song?
50 Cent and Tekashi 6ix9ine have reportedly collaborated on a new song called 'Get The Strap', which may be set for a world premiere on Power Season 5.
50, who was one of the earliest big-name celebrities to support the controversial rapper, appears to have turned their friendship into a musical collaboration.
Producer Blanco has suggested that 50 Cent, 6ix9ine and New York rapper Uncle Murda have collaborated on a track.
In a now-deleted Instagram post, Blanco wrote: ""This Get The Strap Record Is [fire emoji] @unclemurda x @50cent x @6ix9ine. Produced By @trilogy x @tellemblancosentya The Song Will Premier On Power S5 Episode 8."
According to the producer the anticipated song will appear during the eighth episode of Power Season 5, which is currently scheduled for 19th August 2018.
"It was just a matter of time before they got tired of all the p*ssy sh*t," 50 can be heard saying over the instrumental.
While Uncle Murda appears to handle the chorus, rapping: "yeah, yeah, go get the strap."
50 Cent and 6ix9ine spent time together this weekend at a nightclub in the Hamptons, celebrating 50's champagne company Le Chemin Du Roi.
Following the club appearance, 50 Cent posted a video of the pair together, telling fans to "shut the f*ck up" if they didn't like 6ix9ine's music.
"I'm telling you the kids love the young boy," 50 said in the caption. 
"He is working on his self, we all have things we should work on. If you don't like music make something better. Until then shut the fuck up. Get the strap."
Meanwhile, 50 Cent is currently appearing as character Kanan in Power Season 5, which is appearing on Starz in the US and Netflix UK.