50 Cent Supports Tekashi 6ix9ine After He Got Roasted By The Game
29 March 2018, 10:44 | Updated: 29 March 2018, 10:46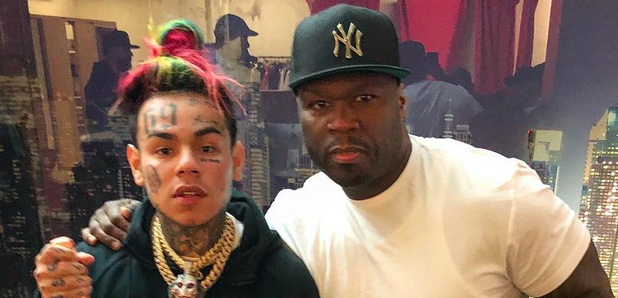 The New York natives linked up.
Just hours after The Game savaged him for one of his recent Instagram posts, Tekashi 6ix9ine appears to have gained a supporter.
Fellow New York rapper 50 Cent came to the Brooklyn MC's aid after The Game - who famously has an on-again-off-again beef with Fif - roasted him.
The duo linked up in the Big Apple on Wednesday to decide on who holds the title of 'The King Of New York', a title which Tekashi recently claimed as his own.
"Tell 'em what you runnnin'! Tell 'em what you runnin'!" says the 'In Da Club' rapper, before 6ix9ine replies, "New York is mine, man."
50 later posted a selfie of the pair together, giving the young rapper his blessing to "do what [he wants] to do" in the wake of his ongoing controversies.
The feud between 69 and The Game recently heated up after the 'Gummo' rapper responded to The Game's "fake Blood" diss during his interview with The Breakfast Club.
"He got a family. He got kids, right?" said 6ix9ine. "Why he not taking care of his kids? He worried about the wrong things. His career, he's trying to spark it. Like an old marriage, he's trying to spark it up. It's over, Blood. Hang it up."
Meanwhile, rapper YG is also at loggerheads with 6ix9ine after he was also dissed during the same interview.