Tekashi 6ix9ine Sparks 50 Cent Feud Following Music Video Shooting
12 November 2018, 10:39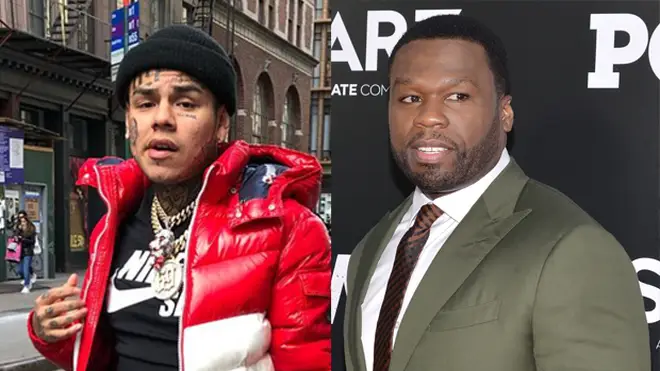 6ix9ine is furious after 'In Da Club' rapper 50 Cent mocked a drive-by shooting that took place at his latest music video which features Kanye West and Nicki Minaj.
Tekashi 6ix9ine has sparked a feud with 50 Cent after his music video with Kanye West and Nicki Minaj was subjected to a drive-by shooting in LA.
Following the dramatic incident, which saw a bullet pass through Nicki Minaj's dressing room window, 50 Cent was quick to respond in a now-deleted Instagram post.
Posting a picture of the window with a bullet hole on it, 50 wrote: "now somebody done shot my son video up in LA. Kanye was like," alongside a running emoji and a laughter emoji.
Tekashi 6ix9ine and Kanye West were reportedly both on set at the time but were unhurt in the shooting, while Nicki Minaj was yet to arrive at the video shoot.
After seeing 50 Cent's brutal response, 6ix9ine publicly expressed his dislike to his fans on Instagram.
"I'll f*ck up 50 Cent," he wrote, alongside the caption, "Can u visit me."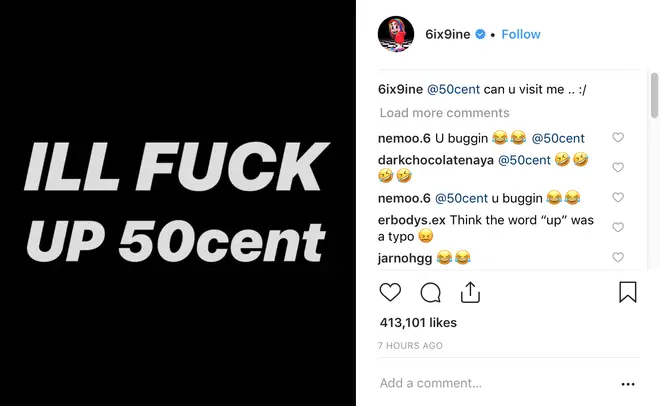 50 Cent then responded by reposting 6ix9ine's image and adding his own lengthy caption.
"Aww f*ck they are turning my son against me! I told him I'll slap the color out his hair, then knock the tattoos off his face. But I didn't mean it.
"You know he thinks he's me smh. I wasn't this bad before I sold 30 million records. Positive vibes."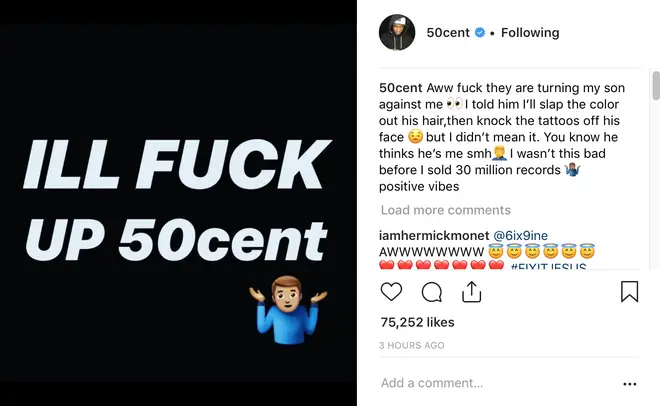 50 Cent also recently trolled Tekashi 6ix9ine after seeing his latest face tattoos.
The two New York rappers have a very complicated relationship, after previously collaborating on a song called 'Get The Strap'.
50 was also one of the first major artists to publicly show his support for Tekashi 6ix9ine, following his controversial past, and also refers to the 'Bebe' rapper as his son.
Meanwhile, Tekashi 6ix9ine is preparing to release his new project 'Dummy Boy', which will drop on 23rd November.