50 Cent 'Black Mafia Family': Release date, plot, cast, trailer & more
16 July 2021, 17:02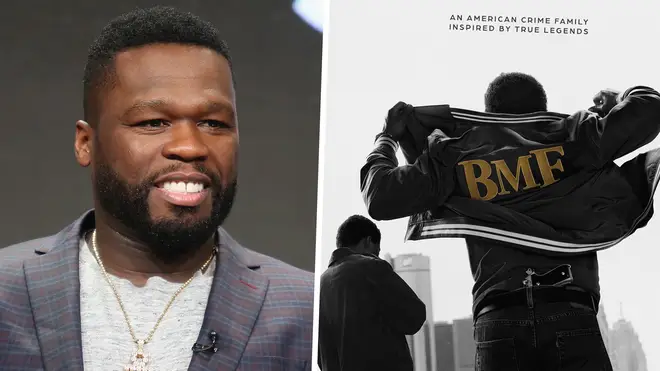 50 Cent is set to release a new TV series 'Black Mafia Family'. Here's everything we know about BMF...
50 Cent has revealed that he has added another series to his roster, Black Mafia Family. Following the success of Power and For Life, the executive producer is onto a new venture.
On Thursday (July 15) the 46-year-old hip-hop mogul teased the plot of his new series BMF.
Here's everything we know about BMF.
What is Black Mafia Family's release date?

50 Cent has revealed that he has wrapped up production for Black Mafia Family.

The rapper-turned-executive producer announced the air date in a post on Instagram.

50 Cent shares BMF poster on Instagram.

Picture: Instagram/@50cent

"Oh it's lit for real BMF you know this is going to be crazy. Bigger than POWER," 50 wrote while predicting BMF to overtake Power as his top creation in the TV world.

The series will be premiering on Starz on September 26.

What is the plot?

50 Cent's TV series 'Black Mafia Family' is based on the real-life story of the well-known Detroit brothers, Demetrius 'Big Meech' and Terry 'Southwest T' Flenory.

The infamous brothers from Detroit founded the Black Mafia Family – a drug trafficking and money laundering organisation in the US.

The pair also entered the hip-hop music business as BMF Entertainment, working as a promoters for multiple high profile hip-hop artists.

However, it turns out that BMF Entertainment was also a front organisation to help launder drug money.

The brother's ruled the crime scene in America, but also had a heavily influenced on hip-hop culture,

Who is in the cast?

Legendary rapper Snoop Dogg is in the Black Mafia Family cast as Pastor Swift, the Felenory family's spiritual advisor.

Power's La La Anthony will star in the series as Markaisha Taylor, the wife of a drug dealer.

Empire's Serayah also stars as Demetrius Flenory's girlfriend, Lori Walker in the series.

Also starring in the series, there is; Demetrius 'Lil' Meech Flenory Jr, The Way Back's Da'Vinchi, Fenches star Russell Hornsby, Dead to Me's Michole Briana White, Empire's Ajiona Alexus, Blue Story's Eric Kofi-Abrefa and Black Lightening star Myles Truitt.

Steve Harris, Arkeisha 'Kash Doll' Knight and Wood Harris will also be in the series.

However, it has not been confirmed whether 50 Cent himself will appear in the series or not.

Whether Jackson himself will star in the series remains unknown for now.

However, he is an executive producer on the show.

Randy Huggins, best known for his work on Power, Criminal Minds and The Sheild has been revealed as the show's writer.

What is the trailer?