Power Book 3 Raising Kanan spin-off: release date, cast, plot and everything you need to know
20 July 2021, 16:46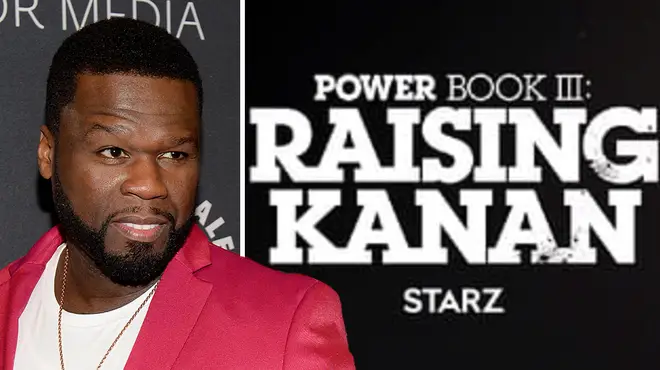 50 Cent has shared a new teaser clip of the upcoming show and has revealed the release date.
Network Starz has officially unveils another three shows set within the world of American-Drama series Power.
On Monday (Feb 10) 50 Cent posted a trailer teasing the range of spin-off shows. While the show saw it's finale, the franchise lives on with a series of spin-offs.
Check out everything we know on Power Book III: Raising Kanan below.
When will Power Book III be released ?

Starz has confirmed there will be Power prequel series which will give an insight into pasts of Ghost, Tommy Egan (Joseph Sikora), Angela Valdes (Lela Loren) and Kanan Stark (Curtis "50 Cent" Jackson).

On Ryan Seacret's show, 50 Cent previously opened up about the the Power universe.

He explained: "Power Book II will be on in the same time slot as Power.

In June, Power will return "We've got Power Book III; it's Raising Kanan and that one is in the last stages of casting right now"

"We're doing that right now, and the third one is in the writers' room—Power Book IV is in the writers' room."

50 Cent's revealed this back in January, suggesting that they had started the production for the series.

On Monday (Apr 26) 50 Cent shared a new teaser trailer for Raising Kanan, while revealing a new release date.

On Thursday (Jan 14) 50 Cent confirmed the production team have began filming Power Book III:Raising Kanan" is being filmed.

The executive producer shared a photo of the clapperboard which has the title of the project.

While Power Book III: Raising Kanan hasn't even premiered, it has already been renewed for a second season.

The series release date is July 18 on Starz and executive producer 50 Cent is getting fans hyped for the second season.

"Season 2 is lit," 50 Cent wrote, announcing that the series has been enewed for a second season.

"By the time you make it to episode 5 you're gonna say Raising Kanan is better than POWER. Green Light Gang." he added.

What is the trailer for Power Book III ?

50 Cent shares official teaser for Power Book III: Raising Kanan

On Sunday (Dec 27) The Power Starz page on Instagram, shared an official teaser of Power Book III: Raising Kanan.

The trailer shows a young 50 Cent growing up in the streets of Southside Jamaica Queens.

The short clip prepares us to go back in time to when 50 Cent/Curtis Jackson's character was just a teenager growing up in the 1990s.

The teaser shares photos of the new cast, sporting retro fashion. In the clip, 50 Cent begins "You already know how my sh*t ended, this is how it started," he says.

At the end of the teaser, 50 Cent says "This is my story. This is a Southside, Jamaica Queens story."

Check it out above.

Who will be in the cast of Power Book III ?

On Friday (Feb 14) Deadline announced Actor Omar Epps will be joining the Power franchise.

The veteran actor, who is famous for his role in Love & Basketball has been casted the prequel and spinoff Power Book III: Raising Kanan.

This took place just five days after the Power series finale ended.

The short scene at the end of Power's finale showed a young versions of the characters in the show.

In the short snippet, it shows actor Chris Sumpter taking on the role of young Jamie in the show.

Power Book III: Raising Kanan.

Picture: STARZ

Actor Ethan Cutkowsky will play as a Young Tommy, following his role playing Carl Gallagher on Showtime's comedy hit Shameless.

According to The Deadline, London Brown (The Hustle), Malcolm Mays (Snowfall), Shanley Caswell (NCIS: New Orleans), Toby Sandeman (The Royals) and Joey Bada$$ (Mr. Robot) have been casted to act in Raising Kanan.

They will be alongside Patina Miller, Mekai Curtis, Omar Epps, Hailey Kilgore and Lovie Simone.

Additionally, Quincy Brown (Star) is set as a recurring.

The show will also see new cast members joining with a young version of Tommy Egan's mother too.

After the first episode, fans wondered when Tommy, Ghost and Tasha will appear in the series.

In an interview, 50 Cent did not give away the full answer, but teased a time period of when it may happen.

"I can't tell you exactly when," 50 explained. "But they're in Kanan's life before he went to jail. And you know potentially Tasha is already around, because when we see that Ghost forgives Kanan for his actions and they go back to working with each other but Tasha still has…" 

What is 50 Cent's theme song for Power Book 3?

On Saturday (Nov 28) 50 Cent shared a snippet of the track theme song for Power Book III: Raising Kanan.   

The rapper shared the song "Part of the Game," featuring NLE Choppa & Rileyy Lanez on Instagram. See the video below.

See the music video for the song below.

50 Cent feat. NLE Choppa & Rileyy Lanez - "Part of the Game" | Official Music Video

What is the plot of Power Book III ?

The Power spin-offs are will be taking place in the 90s.

Raising Kanan will give insight into the characters life and childhood.

He will encounter experiences which will clarify why he became the character he did.

Although there is not yet a detailed plot on Kanan's story, the new power series will show the bond between Ghost and Tommy from them growing up together.

'Power Book III: Raising Kanan' will see the early life of 50 Cent's character.

Picture: STARZ

From the snippet shown at the end of the finale, the camera shows a group of children coming out of school from 1996.

Angie and Ghost seemed to have found love, with the pair going on to become apart of a love triangle later on in life.

In the clip, Angie was seen with a brochure for Choate School, which she showed to Ghost.

As fans will know, this is the school Ghost's son Tariq St Patrick (Michael Rainey Jr) attended before he was kicked out due to dealing drugs.