50 Cent's girlfriend Cuban Link & ex Vivica Fox online feud explained
1 June 2021, 11:19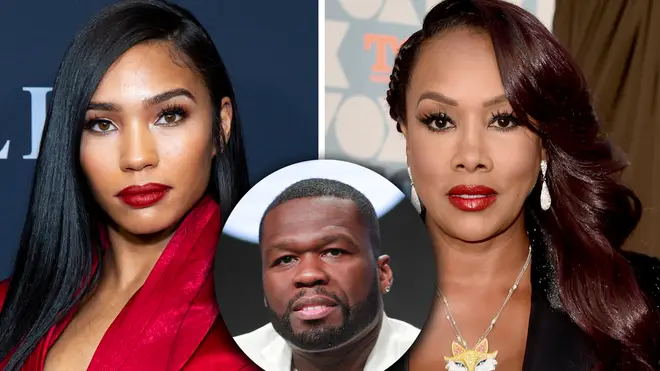 What has 50 Cent said about Vivica Fox declaring her love for him? Here's everything that went down between the trio.
50 Cent's girlfriend Cuban Link and his ex-girlfriend, Vivica Fox have gone back and forth online, throwing shade at each other.
It all began when the Vivica's VladTV interview went viral. In two videos, the actress reminisced on her relationship with 50 Cent, calling him "the love of her life".
The Two Can Play That Game star was in a relationship with 50 Cent in 2003, until they called it quits in 2004.
But what actually happened between the Cuban Link and Vivica Fox? What had 50 Cent said?
What did Cuban Link say to Vivica Fox?

The controversy kicked off after a clip of Vivica A. Fox's VladTV interview went viral.

When asked about her four-month relationship with 50 Cent, Vivica detailed how they met to their sour break up. She also revealed that she still has feelings for the rapper.

Vivica A. Fox on How She Met 50 Cent & Why They Broke Up: He's the Love of My Life (Part 15)

"We met after he said the thing at the Soul Train Music Awards, 'And I want to thank Vivica Fox for wearing that dress,'" she explained.

"I was shocked … I was just kinda like, wow. And then after that, his people got in touch with my people and next thing I know, we were on the phone and my birthday was coming up and he's such a gentleman." she added.

"He's very generous. His—I know him as Curtis, always will, and the 50 Cent, those are his performing things and who he is as a man. So, I met Curtis."

She continued "The love that I had for him, and still to this day, will always — he was the love of my life. I will admit that without any reservations. He will always have a special place in my heart. But the reason that the relationship ended is because we went way too public, way too fast … I really love him."

50 Cent and Cuban Link have been together since August 2019. Picture: Getty

Cuban Link caught wind of what Vivica Fox said and entered TheShadeRoom comments section, showing shade at the actress.

"Awww" coupled with a tiny violin, Cuban Link wrote on the post.

On Friday (May 28) Cuban Link threw shade at Vivica, after the actress shared throwbacks of her and 50 Cent loved up.

See what 50 Cent's current girlfriend said on Twitter below.

Cuban Link shades Vivica Fox on Twitter, after the actress shared throwbacks of her and 50 Cent together.

Picture: Twitter/@CubanLink__

Cuban Link seemingly refers to Vivica as a "grown folk" on Twitter.

Picture: Twitter/@CubanLink__

However, Cuban appeared to backtrack the following week and apologised for her comments.

"Humorous comment. Bad timing that's all," wrote Cuban Link on one of Vivica's posts.

"Now with knowing all of the information, it's no [sic] so funny! I take the blame for the all the commotion! I apologize."

What did Vivica Fox say to Cuban Link?

On Wednesday (May 26), Fox responded to Cuban Link's comment on her Instagram story.

"Well! This is getting good cause I tried to post 3 times on @ShadeRoom," Vivica wrote.

Vivica Fox claps back at Cuban Link on her Instagram story.

Picture: Instagram/msvfox

"Now @_Cuban_Link what that clip didn't show was that I said he now has a hawt gurlfiend & Im happy 4 him!"

She added "So stay in ya bag boo dont get nervous! Im good!"

On Friday (May 28) Vivica Fox shared throwback photos of herself and her former lover 50 Cent.

See post below.

Vivica Fox shares throwback post of herself and ex-beau 50 Cent on Instagram.

Picture: Instagram/@msvfox

What did 50 Cent say?

50 responds to Fox's comments while speaking with radio host Kris Kaylin.

"I'm never bothered by when she says that. At the time that we actually interacted with each other, we weren't conscious of everything else that was going on."

Kris Kaylin x 50 Cent Interview

50 did agree that there were too many people involved in their relationship due to it being public.

"It got so uncomfortable with everybody else," 50 said. 

"When you gettin' pushed and pulled in different directions, without it even being her decision. Her publicist would say, 'do this,' this person [would say] 'do this.' And then you go, 'All right, this is not the right thing.'"

50 also confirmed Fox's claim that he was going to propose to her with a 12-carat ring, but turned the jewellery into earrings after he they had a disagreement.