Who is YFN Lucci? Why is the rapper in jail?
2 June 2021, 16:02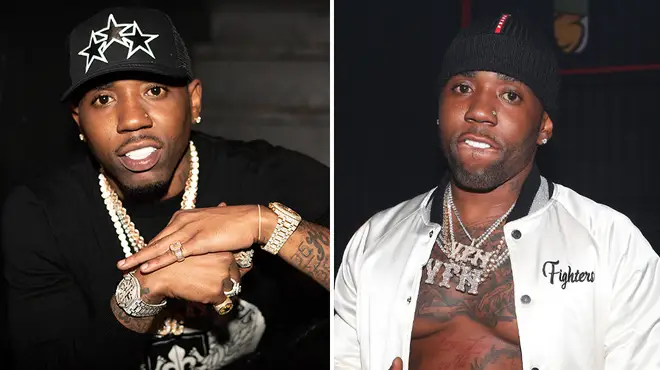 The Georgia rapper has been arrested in connection to a double shooting in Atlanta.
YFN Lucci has been arrested in connection to the December murder of a 28-year-old man in Atlanta.
The 'I Gotcha' rapper faces several charges that include murder and aggravated assault, and was denied bond by a judge in June 2021 after surrendering to police a month prior.
Find out more about YFN Lucci and his murder case below.
Why did YFN Lucci get arrested?

YFN Lucci was arrested in connection with a double shooting in Atlanta that left one man dead and another injured.

According to CNN, Atlanta police officers responded to calls of a person shot around 5:20 p.m. on December 10.

In the police incident report, it stated that James Adams, 28, was found lying in the street with a gunshot wound to his face.

Adams was then taken to a local hospital where he later died.

A short time after, a second victim, Kevin Wright, 32, arrived at a fire station with a gunshot wound to his abdomen, the report states.

YFN Lucci is wanted in connection to a double shooting in Atlanta. Picture: Getty

The two shooting were likely related according to homicide investigators.

Three suspects were named in the investigation, including YFN Lucci, police said. The other two suspects were caught.YFN Lucci is currently being held without bond.

The rapper faces charges for felony murder and aggravated assault and is accused of gang activity and driving a vehicle used for a fatal drive-by shooting.

On Friday (Jan 15), Reginae Carter, who is YFN Lucci's ex-girlfriend, provided fans with an update from the incarcerated rapper.

The post Carter uploaded to her Instagram story read, "Hey guys! Ray wants you all to know he's in good spirits and doing well. Thanks for all the prayers and well wishes … He'll be home soon."

Lucci surrendered to police on May 10 on a gang-related RICO indictment, and was denied bond by a Fulton County superior court judge the following month.

He had reportedly been out on a $500,000 bond for felony murder and other charges before the racketeering indictment.

What is racketeering?

The term racketeering refers to an organised criminal act, usually committed through means of extortion or coercion.

In the US, the law defines 35 different crimes that constitute as racketeering, including kidnapping, gambling, drug dealing and arson.

Brooklyn rapper Tekashi 6ix9ine famously faced life in prison on multiple racketeering charges due to his involvement with New York gang, Nine Trey Bloods.

He eventually pled and opted to cooperate with the police in exchange for a lesser sentence.

Who is YFN Lucci? What is the rapper's real name?

YFN Lucci is an American rapper from Atlanta, Georgia.

Lucci, whose real name is Rashawn Bennett, signed a record deal in 2014 with Think It's A Game Entertainment.

The rapper then went onto release his debut mixtape, 'Wish Me Well'.

YFN Lucci. Picture: Getty

The rapper has worked with other rappers such as Rick Ross, Jeezy, and Boosie BadAzz.

The musician is a father to four children from two different mothers.

He is also known for having a highly publicised on and off relationship with Lil Wayne's daughter Reginae Carter.

What is YFN Lucci's age and height?

YFN Lucci is 29-years-old. The rapper was born on 16 February 1991.

Lucci's zodiac birth sign is Aquarius.

According to HeightPedia, YFN Lucci is 5 ft 9, or 177 cm tall.

What is YFN Lucci's net worth?

According to The Wealthy Record, YFN Lucci has a net worth of $500 thousand in 2021.

Lucci has seen several years of commercial success due to his music.

Lucci is best known for his songs 'Keys To The Streets', 'Everyday We Lit' and 'I Wonder Why'.

The rapper released an EP in 2017 titled 'Long Live Nut', which debuted at number twenty-seven on Billboard 200.

What did YFN Lucci's real teeth look like?

YFN Lucci has become known for his diamond grill that he flashes when he smiles.

The rapper allegedly spent $120,000 on having the diamond teeth installed in his mouth in February 2019

YFN Lucci removed his permanent diamond grills.

Picture: Instagram

In May 2020, the rapper was trending on Twitter after removing his permanent grills.

On Saturday (May 2), Lucci posted a video of himself getting his grill removed by Houston-based dentist Dr. Saif Shere of Brownstone Dental.

The rapper now has veneers.

YFN Lucci shares a photo of his real teeth.

Picture: Instagram

What is YFN Lucci's Instagram?

YFN Lucci's Instagram handle is @yfnlucci. The rappers IG account boasts a whopping 4.2 million followers.

He often shares photos from behind the scenes of his music videos, his merch line and himself.