Who is MGK's guitarist Sophie Lloyd? Age, Instagram & more revealed
16 February 2023, 11:04 | Updated: 16 February 2023, 11:29
Here's everything we know about Machine Gun Kelly's guitarist Sophie Lloyd.
Following rumours that Hollywood couple Machine Gun Kelly and Megan Fox have split, all attention has been shifted to a woman at the centre of cheating claims - Sophie Lloyd.
Fox heavily implied that the rocker's guitarist Sophie, was to blame for the alleged split between the two on Instagram, before deactivating her account.
So, who is Sophie Lloyd? here's everything we know about MGK's guitarist.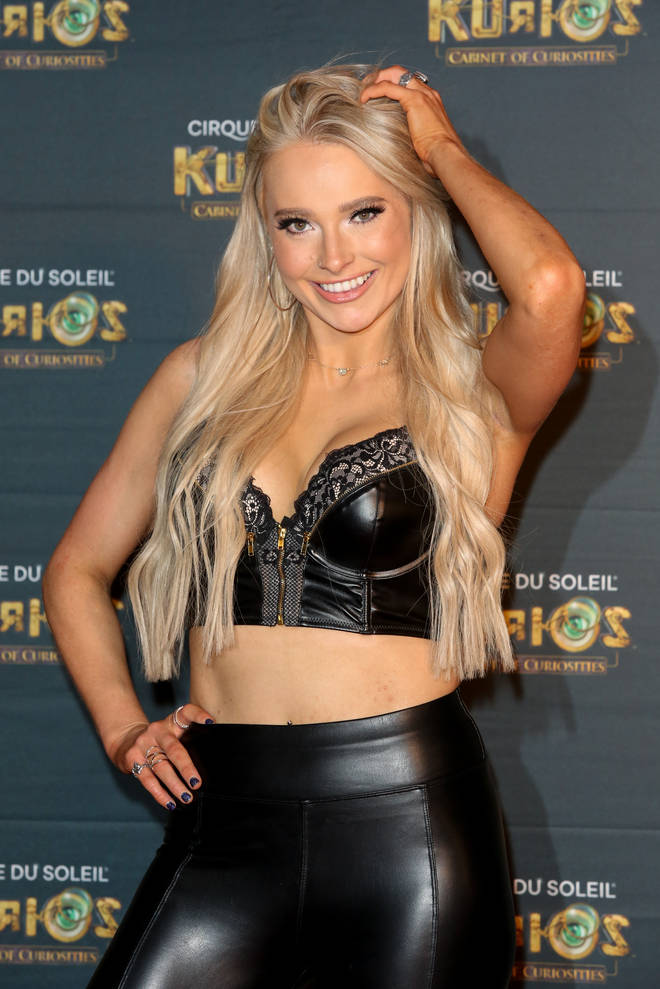 Who is Sophie Lloyd?

Sophie is a British rock and metal guitarist, and tours with Machine Gun Kelly across the world.

She rose to fame after starting a YouTube channel back in 2011, which now has 850,000 subscribers.

"I started playing guitar when I was around 10 years old after listening to Led Zeppelin in the car with my dad", a biography on her website reads.

Sophie is MGK's guitarist. Picture: Getty

How old is Sophie?

Sophie is 26-years-old and was born on September 2nd, 1996.

Her astrological sign is a Virgo and she was born in the United States.

She graduated from BIMM Institute in England with a degree in Popular Music Performance.

Sophie and the rest of MGK's band.

Picture: Instagram

Is Sophie Lloyd in a relationship?

Although fans have speculated that MGK cheated on Megan Fox with Lloyd, she has been in a relationship with Christopher Painter for five years.

Her boyfriend is close with Machine Gun Kelly, and has even thanked him for "bringing Sophie back in one piece" after the US tour wrapped in September 2022.

Sophie has been dating Christopher for five years.

Picture: Instagram

How long has she known MGK for?

MGK announced in May 2022 that Sophie was joining the band ahead of his 'Mainstream Sellout Tour'.

"Secret's out! I'll be joining Machine Gun Kelly on his Mainstream Sellout Tour this year!!", she announced on her Instagram.

She added at the time: "So incredibly excited and honoured to be given this opportunity."

Sophie and MGK have been touring for the past year.

Picture: Getty Images

What has Megan Fox said about Sophie Lloyd?

The pair do know each other, and seemingly had formed a friendly relationship since she joined MGK's tour.

Before Megan Fox deactivated her Instagram account, she responded to a fan's comment saying "He probably got with Sophie."

Fox then quipped back: "Maybe I got with Sophie."

MGK and Megan Fox were last spotted at the 2023 Grammys. Picture: Getty

Has Sophie Lloyd responded to the rumours?

Sophie has now responded to rumours claiming that she's the reason behind the singer's alleged breakup from Megan Fox.

Her reps confirmed to Page Six that "Sophie Lloyd is a professional, accomplished musician who has been needlessly dragged into the media based off of meritless accusations made by social media."

"Any suggestion that she has ever acted in an unprofessional manner or stepped out of her relationship are untrue. It's disrespectful to her as a female artist and poor journalism and social commentary to be reporting anything else."