Who is BIA? Nicki Minaj jumps on rapper's track 'Whole Lotta Money' remix
9 July 2021, 15:43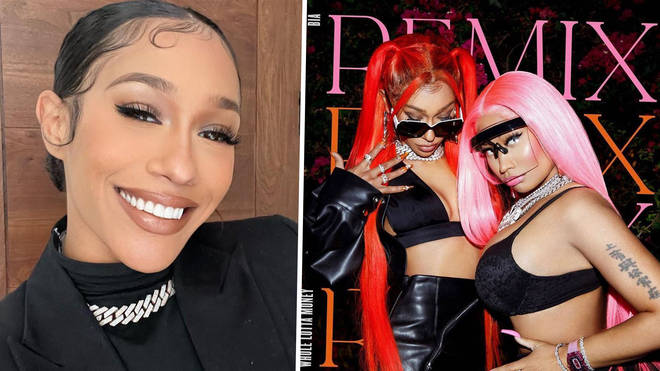 Nicki Minaj has joined forces with BIA on the remix to the star's hit track 'Whole Lotta Money'. Here's what you need to know about BIA.
BIA just received a super huge collaboration from Queen Nicki, for the remix of her song 'Whole Lotta Money'.
The rapstress – real name Bianca Landrau – rose to fame when she appeared on Oxygen reality television show Sisterhood of Hip Hop.
In 2014, the American rapstress went on to sign with Pharrell's I Am Other record label, in partnership with RCA Records in 2014.
But who is BIA?
Who is BIA?

BIA is an American rapper, singer, songwriter, and model. She is of Afro Puerto Rican and Italian descent.

BIA was originally from Medford, Massachusetts, but moved to Los Angeles full time in 2017.

She got noticed on a bigger scale after featuring on the 2016 single "Safari" by J Balvin.

She also featured on Russ' "Best on Earth" in 2019.

BIA.

Picture: Instagram/@bia

In early 2020, BIA signed a new record deal with Epic Records, releasing her second EP, For Certain, on December 11, 2020.

BIA's song 'Whole Lotta Money' began blowing up on TikTok in early 2021, giving her more exposure.

On July 9, BIA released the remix to the track with Nicki Minaj.

How old is BIA?

BIA is currently 29-years-old. She was born on 16th August 1991.

Her birth zodiac sign is a Leo.

What is BIA's Instagram?

BIA is very active on Instagram, using the platform to showcase her personality, amazing outfits and her new music.

Her Instagram handle is @bia.

The rapstress has over a whopping 1.1Million followers and she often shares selfies, model like photos showing off her style and images with her boo.

Check out her photo's below.

Is BIA in a relationship?

While there is no concrete information on whether BIA is in a relationship or not, she has shared photos with a mystery man.

On Tuesday (Jul 6) the star posted a photo of her and her rumoured beau, who has not been identified.

She captioned the photo: "If ima stick beside him was a person".