Who are Kevin Hart's kids? Names and ages revealed
18 June 2021, 14:09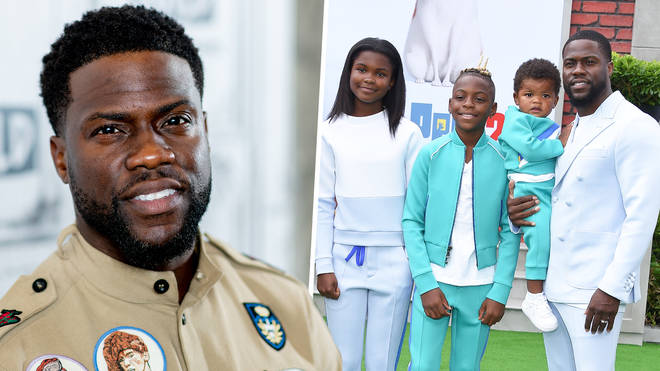 How many kids does Kevin Hart have? Meet all of Kevin Hart's children...
Kevin Hart is known for being one of the richest and influential entertainers in the world.
While the comedian has seen major success from all his jobs, he makes it clear that his no.1 successes are his children.
It is very evident that Hart's kids are a major motivator in his life. The man of many talents s a father of four, with his kids ranging in age from their teens all the way down to a newborn.
But who are Kevin Hart's kids?
Heaven Hart

Heaven Hart and Kevin Hart.

Picture: Getty

Kevin welcomed his first child Heaven with Torrei Hart on March 14, 2005. She is currently 16-years-old.

Since she was a young girl, Hart's daughter has embraced the Hollywood scene.

Heaven Hart has stood by her dad's side at many A-list events and has posed on the red carpet.

In 2014, Heaven walked the red carpet with Kevin, her stepmom Eniko and brother Hendrix at the 27th Annual Kids' Choice Awards.

In 2015, she also appeared on stage during the MTV Movie Awards.

Since then, Heaven has attended many more events and film premieres.

Kevin gifted his eldest child a brand-new black Mercedes Benz with a big red ribbon on it for her 16th birthday in March 2021.

According to Us Weekly, the car cost an estimated $85,000.

Hendrix Hart

Hendrix Hart and Kevin Hart.

Picture: Getty

The American actor's second child was welcomed into the world on November 8, 2007. He is currently 13-years-old. He is the second child to come from Hart and Torrei.

Hendrix is also a pro on the red carpet, just like his sister Heaven. He also showed out on the red carpet throughout his childhood.

Hendrix is known for dressing bold and bright on the red carpet, like the time he wore a bright green tracksuit at the premiere of The Secret Life of Pets 2 in 2019.

Kenzo Kash Hart

Kenzo Kash Hart and Kevin Hart. Picture: Getty

Kevin's third child and first with Eniko, Kenzo Kash Hart, was born on November 21, 2017. He is currently three-years-old.

Hart announced Kenzo's birth in a sweet post on Twitter.

"God is truly amazing … Kenzo Kash Hart was born at 1:45 a.m. … he is Healthy and already smiling," Kevin marveled. "Thank you all for your prayers!!!! We love and appreciate ya."

Since Kenzo's arrival, Kevin has shared photos with him all over social media.

In November 2019, Kevin wrote: "Daddy and Mommy love you to death Zo a.k.a. Bear a.k.a. Hot feet a.k.a. Heavy head a.k.a. pitter pater a.k.a. prince Zo a.k.a. Little Burger King, because you have to have it your way," he captioned a photo of his boy.

Kaori Mai Hart

Kaori Mai Hart.

Picture: Instagram/@enikohart

The youngest of Kevin's kids is Kaori May Hart, who was born on September 29, 2020. She is currently 0-years-old. She is Kevin's second child with his current wife Eniko.

Eniko announced the news of their daughter's arrival on Instagram.

"A little bit of heaven sent down to earth … welcome to the world baby girl … we couldn't love you more." she wrote.

A few weeks later, Kevin followed up a birth tribute post uploading the first pic of their daughter, writing, "All I can do is smile."Kaori has been spotted on Kevin's Instagram countless times since.