When are Kourtney Kardashian's kids birthdays? Ages, date and more
15 December 2022, 15:32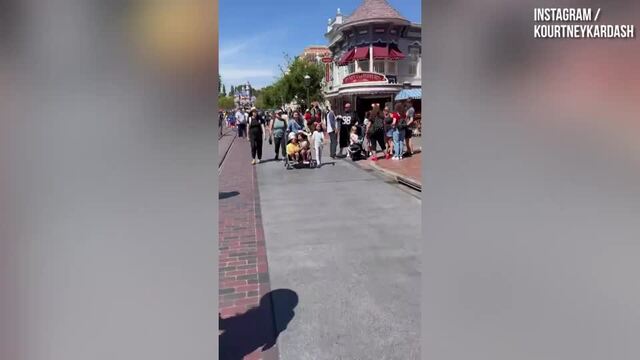 Kourtney Kardashian heads to Disneyland with the kids
Here is a rundown of Kourtney Kardashian's three children's birthdays.
Kourtney Kardashian is the OG for Kardashian kids after welcoming son Mason with then-boyfriend Scott Disick way back in 2009.
After Mason, Kourt then welcomed two more children with Scott, daughter Penelope and son Reign.
So when are their birthdays and how old are they? Here's a rundown of Kourtney's children.
Kourtney Kardashian dating history: From Scott Disick to Travis Barker
Mason Disick

The oldest out of all the Kardashian kids Mason was born on 14th December 2009, making him 13 years old.

He appeared regularly on the earlier seasons of Keeping Up With The Kardashians, but has since moved out of the spotlight as he reaches his teenage years.

In honour of his 13th birthday, auntie Kim posted a rare picture of the two as she revealed that he was now taller than her.

Mason is now a teenager.

Picture: Instagram

Kourtney explained why Mason hasn't appeared in any episodes of Disney+'s The Kardashians and said, "I see comments all the time that I'm never with my kids. And I just don't love to post my kids on social media."

She continued, "They don't love it, sometimes they do."

Mason reportedly "doesn't want any part of it. He's not on social media. He doesn't love it, and I want my kids to be kids. I crave normalcy as much as we can have it", according to Kourtney.

Penelope Disick

Middle child and only daughter Penelope was born on July 8th 2012, making her currently ten years old.

Her middle name is Scotland and her dad is Kourt's ex Scott Disick.

She is the niece of Kim and Khloe Kardashian, Kourtney's sisters.

Penelope and her mother Kourtney Kardashian.

Picture: Getty Images

Kourtney recently opened up about how Penelope still shares a bed with her mum.

"She's slept with me every day since she was born and pretty much still does, unless she has a friend sleepover, unless she leaves me to sleep at Travis's or Auntie Koko's [Khloé] or Auntie Kiki's [Kim]" Kourtney revealed.

"We've spent so much time together and spend so much time together and I just, I don't worry about [Penelope]."

Reign Disick

Reign is the youngest out of Kourtney's offspring and suprisingly shares a birthday with his older brother Mason.

He was born December 14th 2014, and is Kourtney and Scott's last child together before their split.

Reign is a frequent member of The Kardashians crew, and is known for his quips and one-liners unexpected from an eight-year-old.

Kourtney and Reign. Picture: Getty