Tiny Harris Breaks Silence On T.I's & Kodak Black's Explosive Online Beef
29 May 2019, 12:36 | Updated: 29 May 2019, 12:48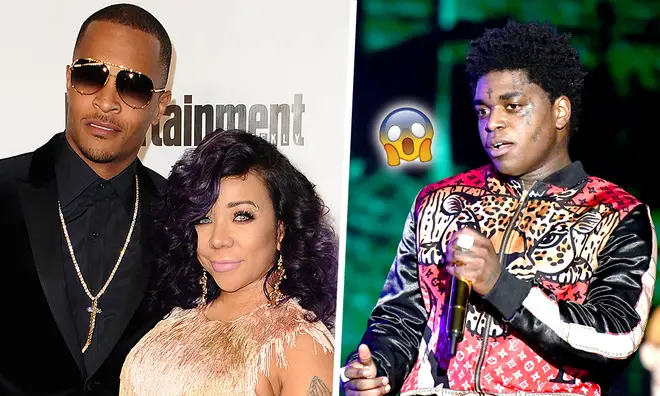 Tiny Harris has finally spoken out and addressed her husband T.I's online beef with Kodak Black. She talks about Kodak's diss track where he called her "piggy" and more.
Kodak Black and T.I's beef has simmered down after Kodak's explosive diss track "Expeditiously" where he take's shots at T.I's wife Tiny Harris.Tiny jokingly responded to Kodak calling her "piggy", with a swift Instagram post.
Yung Joc's recently interviewed Tiny (Tameka Cottle), on his morning show Streetz Morning Takeover to discuss the T.I. and Kodak beef.
During the interview, Tiny addresses how she felt about the allegations Kodak made about T.I.'s daughter, Deyjah Harris.
Tiny revealed: "Yeah, I thought that was pretty disrespectful," Tiny said in reference to Kodak's comments.
She continued: "Tip is one of those people he's not a person to be disrespected. And then you are going in and talking about kids and it's just too much."
The songwriter continued: "God works in mysterious ways. He separated them [T.I & Kodak], so it can't go no further. Nobody loses their lives and nothing happens. Everybody is still living and breathing and everybody is doing good."
Tiny revealed that she didn't want to address Kodak calling her "piggy" as she was worried about her husband continuing the beef.
She said:"I try not to get into Tip's rants, but I know that he's a strong, opinionated person and he's going to say how he feels and he was very close to Nip so he took it very personal."
Tiny continued: "He has to feel like he needs to step in but that's what he does,".
She added: "I just sit back and let him handle it. I don't get in the middle of it. I don't really listen to half of the stuff that's going on and I just let him do what he doing because he's running it and I'm just going to fall back because I know he's got me."