T.I. Just Slammed Kanye West After His "Repulsive" Meeting With Donald Trump
12 October 2018, 10:20 | Updated: 12 October 2018, 10:25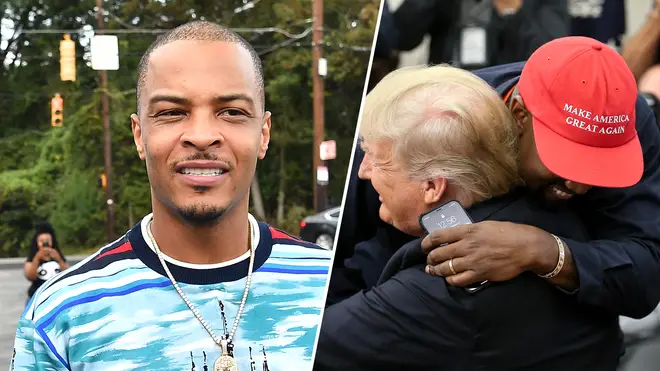 The 'Whatever You Like' rapper expressed his anger with the Trump-supporting star following his meeting with the US President at the Oval Office.
T.I. has strongly criticised Kanye West following his meeting with Donald Trump at the Oval Office yesterday (11th October.)
The 'I Like It' rapper has been condemned for his public support of the US President by both members of the public and famous figures in the entertainment industry.
Kanye, who was wearing his infamous red 'MAGA' hat, met up with Trump in front of hoards of press and reportedly launched into a lengthy rant that covered everything from prison reform to mental health.
In response, T.I., who has previously slammed his friend and collaborator for his recent political stances, fired back at Kanye with a brutally honest reply.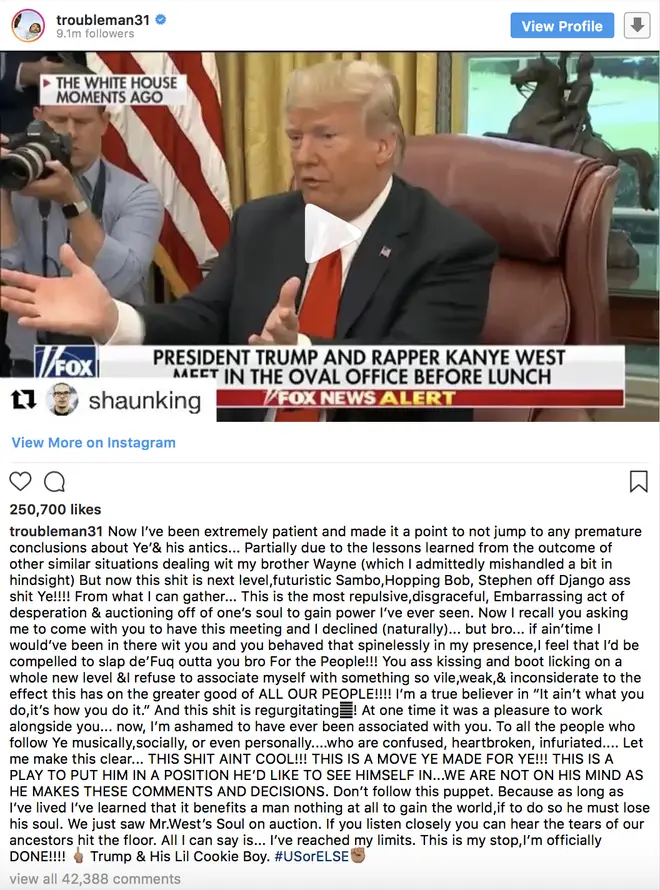 During an extensive Instagram post, T.I. labelled the meeting "most repulsive, disgraceful, embarrassing act of desperation & auctioning off of one's soul to gain power I've ever seen".
Despite being "extremely patient" with 'Ye in the past, the rapper sounded exasperated in his latest response, writing, "This sh*t is next level, futuristic Sambo, Hopping Bob, Stephen off Django ass sh*t Ye!!!!
"You a** kissing and boot licking on a whole new level & I refuse to associate myself with something so vile, weak, & inconsiderate to the effect this has on the greater good of ALL OUR PEOPLE!!!!"
The rapper added that he is now "ashamed to have ever been associated" with West. "If you listen closely you can hear the tears of our ancestors hit the floor. All I can say is... I've reached my limits."
"This is my stop," he wrote, before closing off the passage with a definite statement. "I'm officially DONE!!!!"
Kanye is yet to respond to T.I.'s statement. After their Oval Office meeting, Kanye reportedly hugged Trump and said "I love this man."