The Game Lists His Top 5 West Coast Rappers & Claims He's "Most Underrated"
6 November 2019, 12:46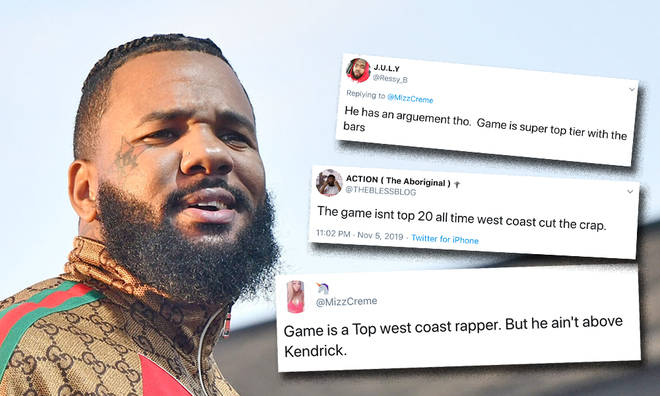 The Game has got plenty of knowledge when it comes to the Hip Hop scene and he's revealed who'd make it into his Top 5 West Coast rappers list.
Being from the West Coast, The Game certainly has the credentials to be commenting on the best rappers from the area and that's exactly what he did when he appeared on Everyday Struggle recently.
Hailing from Compton, over the years The Game has worked with the likes of Kanye West, 50 Cent and Lil Wayne and now he's revealed who he feels are the top West Coast rappers of all time.
Just weeks after T.I's 'Top 50 Rappers' list divided fans opinions, The Game has labelled Snoop Dogg as the best rapper to ever come out of the West Coast.
Speaking on Everyday Struggle The Game said, "I got a real respectable Top 5. It's going to be undeniable. There's certain n***as that have to be put in the Top 5 dead or alive."
He went on to say, "In order of appearance, I gotta put myself number one. Not sleeping on Snoop, but I'm talking about being a lyrical muthafucka for as long as I've been."
Appearing to change his mind and make Snoop his number one pick, he says, "Snoop is my number one rapper. He would be number one. Behind Snoop, as far as West Coast Hip Hop is concerned, it's me, it's Kendrick, I gotta give Ice Cube some shit. And then a n***a like, it could be Nipsey, it could be YG. I don't hate on my coast. I've seen all my n***as rise. I put Kendrick and Nipsey on tour when Nip had the flat top. When Kendrick had a flat top."
Talking about "I might be the most underrated, most underdog, most slept on, most hated on, but what people don't understand is I don't give a fuck about that. One person's opinion is not gon' shape the way that I feel. My muthaf****n Lamborghini still gargle gas. I don't have to put out music as much as Drake do. That's my homie, we live in the same neighborhood. I don't gotta come out with a shoe."
Lists have become a big talking point in Hip Hop lately as a 'Top 50 Worst Rappers' list also went viral a few weeks ago. Including the likes of Ludacris, Blueface and Iggy Azalea.
> Download Our Free App For All The Latest Music News!