A Viral 'Top 50 Worst Rappers' List Has Sparked Debate Among Hip-Hop Fans
23 October 2019, 14:00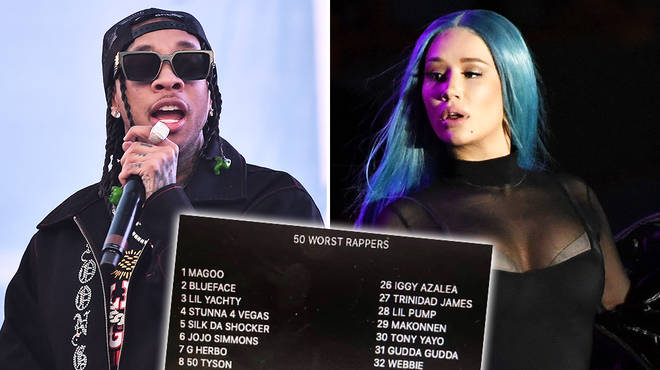 Hip-Hop fans have been debating over the 'Top 50 Worst Rappers' list, which includes Tyga, Iggy Azalea, 21 Savage and many other artists.
Over the last few months, many fans of hip-hop music have been debating online about which artist should rank the highest to lowest as the greatest emcees.
However, a list called 'The 50 Worst Rappers List' has been circulating online. When T.I put out his 'Top 50 rappers of all time' list, it went viral. Now, this new list has taken it's shine.
Some lists have been people's genuine opinions, while others have been solely made to troll artists and gain a reaction online.
After fans saw the 'Top 50 worst rappers' list, they have been expressing their thoughts and opinions on the internet.
Virginia rapper Magoo takes the number one spot, which was a complete shock for some, while many agreed. Magoo was apart of the duo Timbaland & Magoo back in the late 1990s.
The 90's duo's first studio album together went platinum, with Magoo featuring on the hit track "Up Jumps da Boogie" with Timbaland, Missy Elliott, and Aaliyah. Many fans have argued he doesn't have a significant catalogue of music.
In the top 10 of the list in order—is Blueface at number two, followed by Lil Yachty, Stunna 4 Vegas, Silkk the Shocker, Jojo Simmons, G Herbo, 50 Tyson, Lil B, and I-20.
Many fans have mentioned people who aren't included that they think should be, such as Cardi B and Kodak Black.
Vanilla Ice, Shaq, Ron Artest, Birdman, Ludacris, Freeway, 21 Savage, Iggy Azalea, French Montana, Bow Wow, Flo Rida, Memphis Bleek, Logic, and Plies are also on the list.
Many fans strongly disagree with some of the names on the list. See the list above, and fans reactions below.
I really saw a top 50 worst rapper list with Freeway and Luda on it. IDK if they were trolling or not but that has been on my mind nonstop. Smh.

— Joshito (@__Joshito) October 23, 2019
How's GEazy not on that top 50 worst rapper list

— juanch00 (@juan00degreeZ) October 22, 2019
Sad best ablum ever beat Jay Z to be place at no1 2. But' worst these top 50 rapper's list never have Rakim or Krs1 as top 2 as they should be always this celebration of Nas is overrated and alot of less than 3 ablums. I'm the 2st to make that list w/o an ablum or deal #TheGOAT

— TheGOAT #TheGOATofRap (@greatest_in) October 21, 2019
People with classic albums on the Top 50 worst rapper list 🤣 how

— The OG Millenial (@RadioSyh) October 21, 2019
Something in my gut says Soulja Boy or Logic came up with that Top 50 worst rapper list...cant prove it, just a thought

— Club Awesome 🎼 (@TJtheNerdXXL) October 22, 2019