Fans Are Convinced That Tekashi 6ix9ine & Nicki Minaj Are Collaborating On A New Song
20 July 2018, 14:11 | Updated: 20 July 2018, 14:16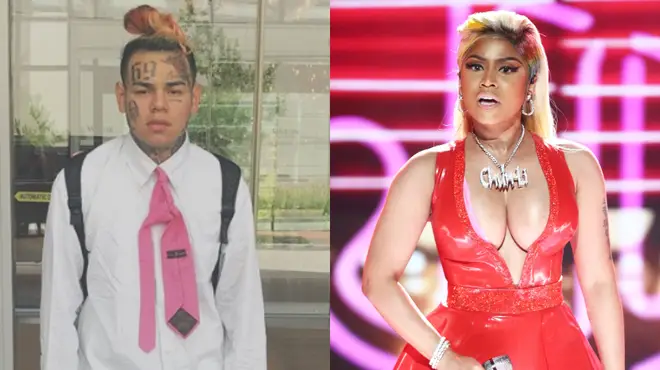 Some people aren't here for the collaboration.
Tekashi 6ix9ine is rumoured to be collaborating Nicki Minaj on a new song called 'FEFE', which is set to be released this Sunday.
In a now-deleted by US media personality, DJ Akademiks, he tweeted: "Nicki Minaj absolutely bodied her feature on Tekashi 69 FEFE. Heard the full record few day ago."
During the European leg of his tour in June, Tekashi announced that he was going to drop a video for the track and that it would have a "cool feature" on it.
He also recently suggested that the official music video for 'FEFE' would be his last because he was about "to go to jail forever."
Neither 6ix9ine or Nicki Minaj have officially addressed the rumours but some fans are convinced that its happening and they have mixed feelings about it.
One fan wrote: "Nicki Minaj abt to ruin fefe" while another said: "I hope that @6ix9ine X @NICKIMINAJ song Fefe fire so she can shut some of yall up about what "She Better Not Do."
nicki minaj abt to ruin fefe 😞

— lil nascar 💨💫 (@gucciscumbag) July 19, 2018
They shot the video for #FeFe 😳 #Nickiminaj . I just wanna hear her verse. How can a whole video leak from her project, but I can't find a snippet of her part Fefe🙄 Atlantic get on it.

— Yaya_PERIOD (@YAYA_BEEN_ON) July 19, 2018
6ix9ine really got Nicki Minaj on FEFE and the video drops Sunday this guy is going 8 for 8

— kenny ♨️ (@phillycustoms) July 20, 2018
"Keep it strapped, this FeFe
They want the fake me not the real me
I'm asking do you love me baby
And that is the real KeKe"
- @NICKIMINAJ

— TOMi KENi (@ThomasDatBoi) July 19, 2018
Nicki is really gonna be featured on tekashi's new song FEFE wow.. a collaboration i never knew i needed until now @NICKIMINAJ sis we're ready

— beca (@reeezzus) July 20, 2018
Fans are going to have to wait until Sunday to find out if the "Bed" rapper is really on the track.
Meanwhile, 6ix9ine recently claimed that people attempted to murder him while in Rikers Island prison, which led to rapper being moved to the Contagious Diseases section of the prison.