Tekashi 6ix9ine Defends Using The 'N' Word During Awkward Interview
19 November 2018, 17:31 | Updated: 26 November 2018, 16:08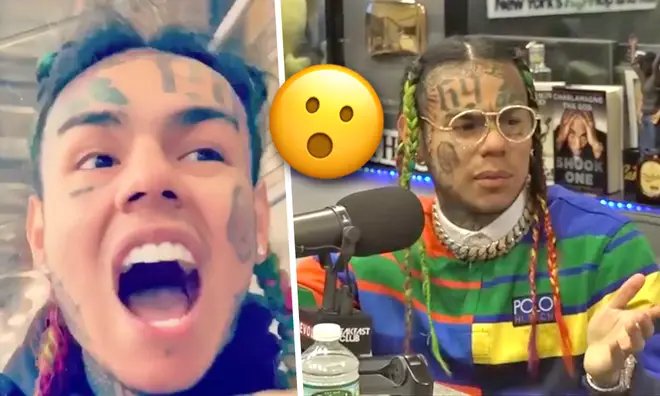 During an interview with The Breakfast Club, rapper Tekashi 6ix9ine openly challenged people to make him stop saying the 'N' word
Just hours before he was reportedly been arrested & taken into custody on RICO charges, rapper Tekashi 6ix9ine joined The Breakfast Club for an awkward interview which saw the 'FEFE' star defend his use of the 'N' word.
> Tekashi 6ix9ine Just Savagely Fired His Entire Team & Cancelled His US Tour
Speaking to host's Charlamagne Tha God, DJ Envy and Angela Yee, Tekashi dismissed critics who have said he shouldn't be using the 'N' word and openly called out anyone to make him stop.
Quizzing the rapper on his decision to use the word, Charlamagne The God said, "Last time you were here – and I don't have a problem with it – but people seem to have a problem with you saying n**** because they say a Mexican should not be saying the word."
But Tekashi 6ix9ine wasn't having any of it and challenged people to stop him, stating "Who gon stop me. Who? I can see those comments all the time. Who? Why can't I say it? I can say it, like. Who gon stop me?"
He went on to add, "It's the way I grew up, it's my culture. I grew up in Bushwick, Brooklyn. It's my vocabulary, It's the way I talk. You know what I'm saying? It's not like oh shit I'm not African-American, I'm not dark skin I can not say this, I can't say it. You know what I'm saying? It's just vocabulary".
Following the interview, news emerged that Tekashi 6ix9ine had been arrested and taken into custody following an investigation by ATF, NYPD and Homeland Security. At the time, TMZ reported that Tekashi and three other men are facing "racketeering and firearms charges" and claim that 6ix9ine will "almost certainly" go to prison.
You can watch Tekashi 6ix9ine's full interview with The Breakfast Club here.
> Download Our App For All The Latest Tekashi 6ix9ine News!