What is the Ski Challenge? What song is used & how do I do it?
20 April 2021, 14:41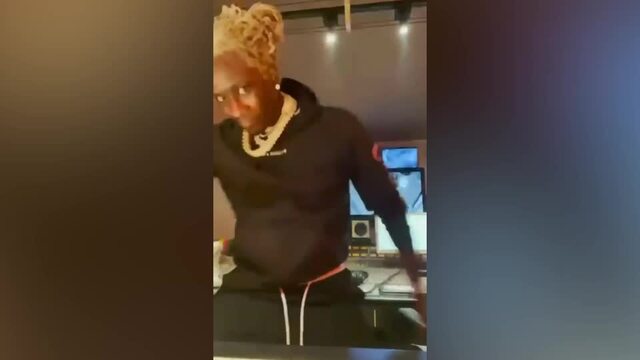 Celebs take part in Tik Tok's latest craze the 'Ski Challenge'
How do you do the Ski Challenge on TikTok? Here's everything you need to know.
A new day, a new TikTok challenge. This time, it's brought to us by Atlanta rapper Young Thug, who recently released his album 'Slime Language 2'.
The 24-tracklist project has a strong list of collaborations and features, but a fan favourite is Thug's 'Ski' track with Gunna.
While the track has taken off with w whopping amount of streams, it has also been featured in a viral TikTok dance trend.
Find out more about the 'Ski Challenge'.
What is the Ski Challenge?

Just before Young Thug's Slime Language 2 LP was released on Friday (Apr 16), Thug shared a video of himself via TikTok in what appears to be a studio doing ski-like movements to his own track.

On March 28, Young Thug uploaded a clip of him creating the new 'Ski' challenge on his Instagram Stories and the Young Stoner Life Records IG page.

"What's the name of this challenge?" Thugger asked his fans, leading him to name the dance #SkiChallenge.

Since then, artists such as Drake, Diddy, Future, Coi Leray, Yung Bleu, Swae Lee and many more have taken part in the challenge.

In the video, celebrities have mimicked Thug's Ski dance and put their own twist on it.

Watch out celebrity compilation of the #SkiChallenge above.

What song is used to do the Ski Challenge?

The song used in the Ski Challenge is Young Thug & Gunna's track 'Ski', released on Thug's Young Stoner Life record label.

The track is a fan favourite from Thug's recently released LP 'Slime Language 2'.

The 24-tracklist album has guest appearances from Travis Scott, Lil Uzi Vert, Big Sean, Future, Rowdy Rebel, Coi Leray, Skepta, and more.

Check out the track and music video below.

Young Thug & Gunna - Ski [Official Video] | Young Stoner Life

How do I do the Ski Challenge?

The Ski challenge is quite a simple dance in comparison to other viral TikTok dance challenges.

Here's how to do the #SkiChallenge:

At the beginning of the song, Thug is heard singing the ad libs "Woo, (Tsunami), Spider, SEX", where TikTok users lightly sway their hands side to side.

The users then begin pretending they're skiing, throwing their arms each side of their body to give the illusion that they're doing the sport, in time to the beat. This happens when Thug says "Yeah,yeah (Woo),Yeah (Woo), yeah (Yeah) Yeah (Yeah), yeah
Yeah (Yeah), yeah (Yeah)" on the track.

For the next couple seconds, users put their own swag and dance on the video, freeestyling moves, until Thug raps "I got these bad ass bi**hes riding 'round this bitch and they all the coldest (Yeah)".

When Thug says "Three", TikTok users hold up the number three with their hands, mimicking a "perfect" emoji sign.

Throughout the rest of the dance, users just add their own swag to the dance.