Pop Smoke ft. 42 Dugg & 21 Savage 'Bout A Million' lyrics meaning explained
16 July 2021, 10:51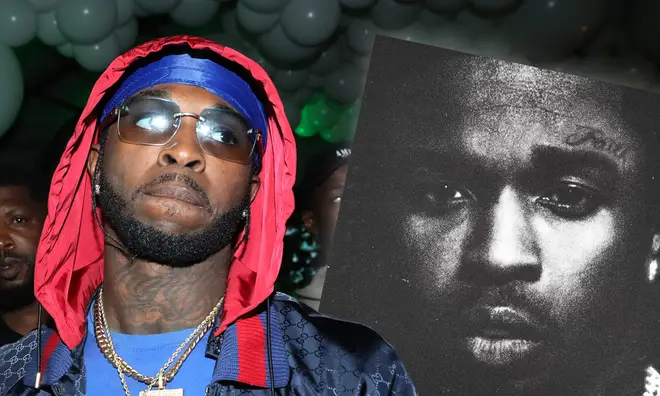 The new track appears on Pop Smoke's second posthumous album 'Faith'.
Pop Smoke's hotly-anticipated sophomore posthumous album Faith has finally dropped, and it features some huge names.
Kanye West, Rick Ross, Chris Brown, Dua Lipa and Pharrell are just a few of the stars who appear on the record, as well as 21 Savage and 42 Dugg on one of the album's lead tracks 'Bout A Million'.
The track marks the first time these three artists have worked together on a song, and hears the trio flex back-and-forth about their expensive jewels and luxurious lifestyles.
See the full meaning of 'Bout A Million' below.
Pop Smoke - Bout A Million (Audio) ft. 21 Savage, 42 Dugg
Look, I made a quarter up in London - Pop Smoke boasts about the amount of money he earned on a recent trip to the UK capital - no less than a quarter of a million dollars.
Twenty-one, I'm a savage / I got twenty-one in the carats - Smoke flexes his wordplay here with a line referencing one of his collaborators on the track, 21 Savage.
Throwin' bullets like I'm Madden - Here, Pop references the Jacksonville Landing shooting, which occurred in August 2018. A shooter shot and killed two people at a video game tournament for the video game Madden NFL 19 in Jacksonville, Florida, before committing suicide.
Took my b**ch up out the Taurus, put her in a Benz - 42 Dugg says he upgraded his girl's whip from a Ford Taurus to a more up-market Mercedes Benz.
Richard Mille, copped without a show-box - 21 Savage shows off his latest timepiece, the celebrity-favoured luxury watch brand Richard Millie. They can go for hundreds of thousands of dollars, with some custom pieces selling upwards of $3 million.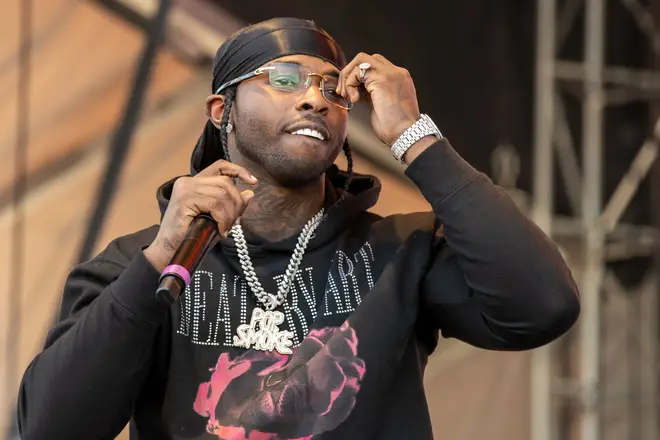 Check out the full lyrics to 'Bout A Million' by Pop Smoke, 42 Dugg and 21 Savage below.
[Chorus: Pop Smoke]
The cheapest ring on my body cost a hundred (Yeah)
I got 'bout a million worth in jewels
Look, I made a quarter up in London (Yeah)
Then I bought twenty chops for the hood

[Verse 1: Pop Smoke]
Look, run down (Run down), tag 'em (Tag 'em)
I give 'em twenty if he catch 'em (Catch 'em)
.44 (.44), blast him (Blast him)
Hit 'em up, then I'm dancin' (Baow)
I'm poppin' (Poppin'), I'm flashy (Flashy)
The b**ches love me 'cause I'm catchy (Catchy)
Bad b**ch (Bad b**ch), sassy (Sassy)
She got that fire like a dragon (Dragon)
Look, big body, Wagon (Huh)
I remember I ain't have it (Huh)
Twenty-one, I'm a savage (Huh)
I got twenty-one in the carats
Throwin' bullets (Huh)
Throwin' bullets like I'm Madden
Leave that n**a in a casket

[Chorus: Pop Smoke, 42 Dugg, Both]
The cheapest ring on my body cost a hundred (Yeah)
I got 'bout a million worth in jewels
Look, I made a quarter up in London (Yeah)
Then I bought twenty chops for the hood
The cheapest ring on my body cost a hundred (Yeah)
I got 'bout a million worth in jewels
Look, I made a quarter up in London (Yeah)
Then I bought twenty chops for the hood
On my knees, for all my n***as bow, b**ch
[Verse 2: 42 Dugg]
Blitz, Crips, fast, drop, rest the blocks
We still steppin', we still stretch s**t
What's on me? a FN, a FN, a F&N
Took my b**ch up out the Taurus, put her in a Benz
That b**ch there ain't worth a quarter, I f**k with tens
Right after she said, "I couldn't", I f**ked again
Earrings on me look like boogers, b**ch, I'm worth some M's

[Verse 3: 21 Savage]
21, bang, do whatever for the gang (On God)
Nudy gon' pop out with that stick and I know that he won't say a name (Ssh)
Buddy got put in a box, he came to the wrong hood lookin' for fame (P***y)
Ain't no secret, big 4L's, them f**kboys know what I claim (P***y)
Richard Mille, copped without a show-box (21)
Four-five, make you do the hold up (21)
Pop Smoke, gun smoke, same thang (Same thang)
I'm on the block slangin' cold cuts (Cut)
Say you got a body, n***a, so what? (21)
Terrorize s**t, we got a whole bunch (B**ch)
None of my opps ain't on nothin' (P***y)
Broke ass b**ches got one gun (21, 21)
She get so wet and slippery (Slippery)
She screamin' and yellin', "Put dick in me" (21)
Most of these jewelers is sick of me (21)
Savage spend money ridiculously (On God)
I ain't with all of the bickery (Straight up)
They disappear, I know trickery (Straight up)
He made a diss and it tickle me (On God)
I don't let bulls**t get to me (21)
Switches on the Glocks, rest in piss to all my opps (21)
We treat beef like albums, n***a, all that s**t get dropped (On God)
I ain't got no brain, I spent your budget on my watch (P***y, 21)
[Chorus: Pop Smoke & 21 Savage]
The cheapest ring on my body cost a hundred (Yeah)
I got 'bout a million worth in jewels
Look, I made a quarter up in London (Made a quarter)
Then I bought twenty chops for the hood (On God)
The cheapest ring on my body cost a hundred (Yeah)
I got 'bout a million worth in jewels
Look, I made a quarter up in London (Yeah)
Then I bought twenty chops for the hood