Malu Trevejo dating history: from Central Cee to Swae Lee
15 June 2021, 12:31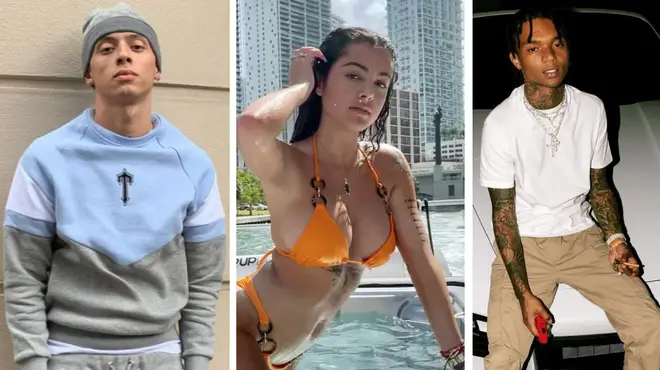 Who has the Cuban singer and TikTok star dated? Is she now single? Here's everything we know about Malu Trevejo's love life
Malu Trevejo is Cuban born, Miami based singer who rose to fame making music in both Spanish and English. She is now also an Instagram personality with more than 10 million followers.
The star, who is also well-known on TikTok, attracts a lot of attention for her looks as well as her talent, but who has she dated?
Swae Lee

Malu and rapper Swae Lee pose together on Instagram.

Picture: Instagram: malutrevejo

In June 2021, Malu was linked to Rae Sremmurd rapper Swae Lee.

The two were seem together on each of their respective Instagram stories, and were spotted looking cosy together in a swimming pool.

Days later, they all but confirmed their rumoured relationship with some loved-up snaps taken at the club.

In the images, the 'Black Beatles' rapper could be seen wrapping his arms around Malu.

'Delicioso' he captioned the photos, while Malu jumped in the comments with a simple smiley-face emoji.

Central Cee

Malu and Central Cee.

Picture: Instagram/@malutrevejo

Malu and Central Cee raised rumours earlier this year when the Cuban singer posted a cosy picture of the pair to her story.

Fans were shocked to see the pair together and conversation began that the two may be together.

However, in response to this Malu posted an Instagram story - that appeared to be aimed at the 'loaded' rapper, shutting down rumours. The star said: 'Can't no rapper, singer, actor say they hit!! #FreeClout your welcome' with a kiss face emoji.

It appeared as though the post may have been a stunt to get the rapper to 1Million followers.

Malu shuts down Central Cee dating rumours.

Picture: Instagram: malutrevejo

NBA Youngboy

YoungBoy NBA. Picture: Getty

The singer was confirmed to be dating rapper NBA Youngboy in 2017.

However, the relationship controversially ended following explosive arguments between the Malu and Danielle Bregoli - also known as 'Bhad Bhabi'.

The two fired shots at each other via instagram at the time. Malu also then took to Instagram live to reassure fans that "nobody broke her heart".