Central Cee dating history: from Malu Trevejo to Madeline Argy
2 September 2022, 12:14 | Updated: 14 September 2022, 10:43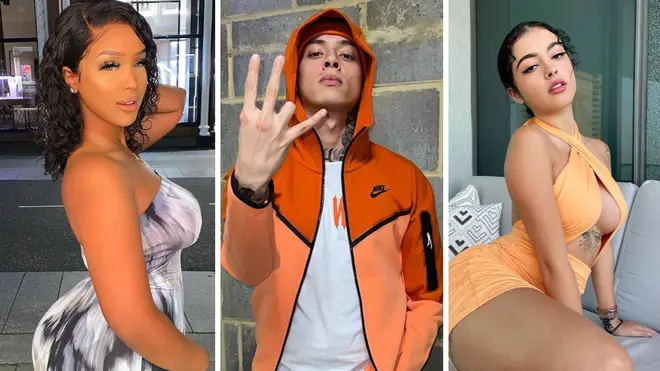 Who is Central Cee's girlfriend? Is the rapper single? Here's everything we know so far.
Central Cee is a UK rapper who has the ladies eyes on him 24/7. Fans are eager to know who the West London rapper is romantically linked to.
Although the "Loading" rapper is private about his love life, there have been a few women he has been rumoured to be dating.
In August 2022, Cench mentioned a mystery girl in a video explaining the lyrics of his hit 'Doja'. He revealed that his a previous girlfriend was bisexual, and she was "the first proper gay person I communicated with."
The next month, Central Cee was confirmed to be dating TikTok star Madeline Argy, who revealed the news in a humorous video.
Here's what we know about Central Cee's relationship history so far.
Madeline Argy

Central Cee and Madeline Argy were spotted leaving a venue together in London, and fans have also found clues suggesting that they are an item.

Madeline Argy is a London based TikToker and influencer. She has over 2 million followers on TikTok and is known for her cooking and storytimes.

In September 2022, Madeline posted a TikTok video with her and Central Cee, joking that "i've never heard of him in my life", as he appears behind her.

According to her management's page, she is 21-years old.

Madeline Argy is rumoured to be dating Central Cee.

Picture: Instagram

Cench recently decoded the lyrics to his new hit 'Doja', he revealed that a girlfriend of his was bisexual.

Madeline has revealed that she is bisexual, and fans put two and two together.

Not only were they spotted together, but she has also uploaded a picture wearing one of the 24-year-old rapper's hoodies.

Fans are convinced that the pair are dating.

Picture: Instagram / TikTok

Malu Trevejo

Malu Trevejo.

Picture: Instagram/@malutrevejo

Malu Trevejo initially sparked rumours she was dating with Central Cee when fans spotted several clues on their social media accounts.

Fan first suspected the pair were an item when Malu shared a video which seemed to be in the same location in a video Central Cee posted.

On Saturday (May 15) Malu took to Instagram to post two photos of herself and Central Cee looking boo'd up.

In the swipe through post, Malu is pictured wearing a grey crop top with pink leggings, with the rapper posing behind her.

Central Cee is holding Malu's waist in one of the pictures.

However, things took a turn when Malu debunked claims that she is with the rapper.

Taking to her Instagram story, Malu wrote: 'Can't no rapper, singer, actor say they hit!! #FreeClout your welcome' with a kiss face emoji, seemingly aimed at the West London rapper.

Malu reveals she 'played' Central Cee on Instagram.

Picture: Instagram/@malutrevejo

She added "I told u I'll get you to a million" which made it seem that she made an agreement with the rapper to boost his Instagram followers.

In another post, the "Luna Llena" singer wrote: 'Can't play someone who already knows how f*ck boys move'.

When a fan wrote 'U clowned Central Cee respect', Malu replied 'I played the uno reverse card'.

Liyah Mai

Liyah Mai.

Picture: Instagram/@liyahmai

Central Cee was romantically linked to model and social media star Liyah Mai last year October.

The pair sparked rumours when Mai uploaded a video in the passenger seat, while Central Cee was driving.

In the car, Central Cee was playing his track "Loading", where he raps lyrics about the 22-year-old IG model.

In the lyrics, the rapper spits: "It's time that I find me a wife/More time I don't have no type/But I wouldn't mind me a Liyah Mai (okay, okay)".

Fans speculated the pair were together, however it was never confirmed.

Kenza Boutrif

Kenza Boutrif.

Picture: Instagram

Fans suspected Central Cee and Kenza were together after seeing their "chemistry" in his 'Commitment Issues' music video.

The rumours went around on social media following the video release in February.

Kenza played as Central Cee's love interest in the video, leading many people to think they may be an item in real life.

However, Kenza nor Cental Cee of addressed the dating rumours.