Who is NBA star Malik Beasley's wife Montana Yao? What is the cheating scandal?
25 May 2021, 11:09 | Updated: 25 May 2021, 12:36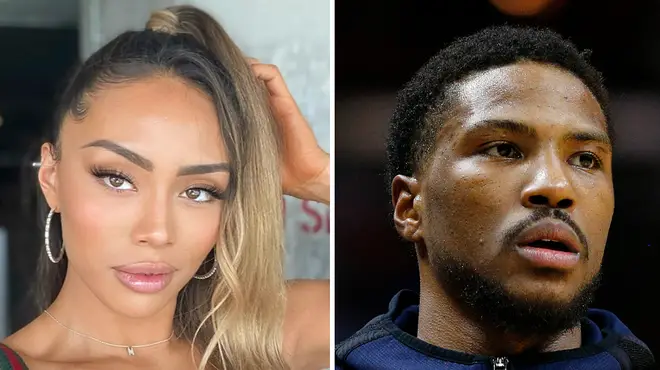 Montana was blindsided after seeing Beasley holding hands with Larsa Pippen, Scottie Pippen's ex-wife.
The wife of NBA star Malik Beasley, Montana Yao, has been in headlines after going through a public cheating scandal.
Yao claims she was "blindsided" by photos of an alleged date in Miami between her husband and reality TV star Larsa Pippen – but what has happened since? And who is Montana Yao?
What happened between Malik Beasley and Larsa Pippen?

Malik Beasley and Larsa Pippen were spotted enjoying a date a few days before Thanksgiving in November 2020.

The 46-year-old estranged wife of NBA legend Scottie Pippen was seen holding hands with Malik, as they walked through a mall in Miami.

Montana Yao reveals she found out about Malik's infidelity along with the rest of the world.

Picture: Instagram

Montana responded to the photos in December via Instagram stories and revealed that she found out about her husband's infidelity along with the rest of the world.

"Wow...I don't even know this man...this is wild y'all I'm seeing it for the first time just like y'all," she wrote.

"I've always and will forever remain true to who I am and GOD has never let me down. The truth always comes out one way or another..."

Montana reportedly filed for divorce, and later took to Instagram to thank her fans for being so supportive.

Montana Yao shares a statement with her fans amid her divorce.

Picture: Instagram

In May 2021, following the breakdown of his five-month relationship with Larsa, Beasley issued a grovelling apology to Montana on Instagram.

"I wana say sorry for putting you in the situation you were put in the last few months.. my head wasn't where it was supposed to be.. [sic]" he began his post, alongside of the former couple with their son.

"I was looking for more when it was right here that whole time.. I'm telling the world and you that there's no body like you for me.."

Beasley issued an apology to his former partner Montana.

Picture: Instagram/@mbeasy5

Beasley shared a photo of the former couple with their son.

Picture: Instagram/@mbeasy5

Montana publicly accepted Beasley's apology, writing on her Instagram Story, "Makai and I do appreciate Malik's apology. It's hard to own up to bad decisions and apologize especially so publicly so it is really appreciated."

She then tagged Larsa in a separate text post and dragged her, calling her 'desperate', 'old' and 'thirsty' and accusing her of trying to 'trap' Beasley with a baby.

"You call paparazzi every single day and every single man," she wrote, "You need clout that bad at your age? Like I'll be damned if I'm walking around behaving like that in 23 years.. smdh and I'll really be damned to EVER embarrass my children like that sheesh."

Montana called out Larsa in a separate post.

Picture: Instagram/@montanayao

Larsa fired back with her post post, calling Malik a 'cheap' 'clout chaser' who pursued her 'relentlessly' before she knew about Montana.

"Since you wanted to "speak woman to woman" on social media let me give u some womanly advice. If you ever find another man who wanted you for you and not all the free press I'm giving both of you, lock him down," she wrote.

"Malik was a clout chaser who pursued me relentlessly before I even knew you existed. And I have the DM's but then again, he knows that."

Larsa Pippen called Malik a 'cheap' 'clout chaser' who pursued her 'relentlessly'.

Picture: Instagram/@larsapippen

Who is Montana Yao, Malik Beasley's wife?

Montana Helena Klein Yao was born in 1997 in Newport Beach, California.

Yao attended high school in Pasadena before graduating from Malibu High in 2015.

Montana has an ethnic background of Mixed (Asian, English, Irish, & German). Her father was from China and her mom has an English, Irish, & German heritage.

Montana Yao.

Picture: Instagram

Montana Yao is currently an Instagram model/influencer and a self described "mother, wife and rapper," according to her Instagram bio.

The social media sensation was crowned Miss Malibu Teen USA back in 2016. She was placed in the top 10 at Miss California Teen USA finalist that same year.

The 23-year-old's fame rose once she got with NBA player Malik Beasley, who made her a mom one year later after they met in 2018.

Malik Beasley is a 24-year-old Minnesota Timberwolves NBA player.

What is Montana Yao's Instagram?

Montana Yao's Instagram handle is @montanayao.

The model has over 137k followers on the platform.

Montana Yao.

Picture: Instagran

How many children do Malik Beasley and Montana Yao have?

Montana and Malik share one child together – their son, Makai Joseph, who was born on March 26, 2019.

The proud mom often shares photos with their son on her Instagram.

Malik Beasley and Montana Yao pose with their son Makai at an NBA Summer league game in July 2019. Picture: Getty