Fans Left Furious After Mac Miller Wasn't Included In The Emmy's Memorium Segment
18 September 2018, 13:12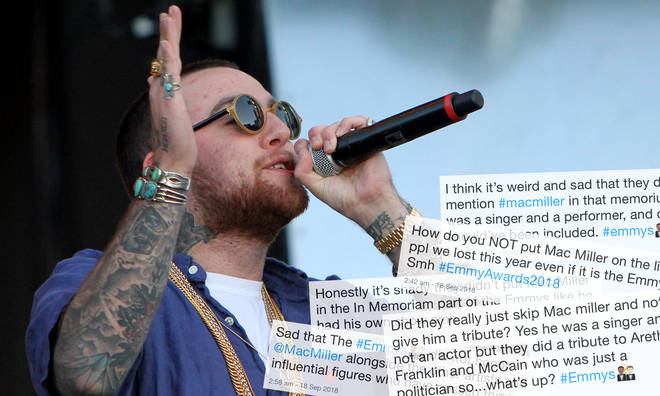 The rapper passed away earlier this month.
Fans of Mac Miller were left outraged last night after the rapper was left out of the Primetime Emmy Awards 'In Memoriam' segment.
The show's segment included tributes to the performers, entertainers, writers and producers who had passed away since last year's Emmys, and featured a number of musical and non-television acts.
Soul singer Aretha Franklin, Playboy publisher Hugh Hefner, Comedy Store owner Mitzi Shore and the late U.S. Senator John McCain were all included in the passage.
However Miller, who passed away at the age of 26 from an apparent drug overdose earlier this month, wasn't included in the segment, and the snub didn't go unnoticed.
"I think it's weird and sad that they didn't mention #macmiller in that memorium," wrote one user. "He was a singer and a performer, and definitely should've been included."
"Can't believe that Mac Miller was not included in the emmys memorium for people lost this year when many singers/songwriters were included," wrote another.
Did they really just skip Mac miller and not give him a tribute? Yes he was a singer and not an actor but they did a tribute to Aretha Franklin and McCain who was just a politician so...what's up? #Emmys

— Jenna (@_jennaplot) September 18, 2018
Honestly it's shady they didn't put Mac Miller in the In Memoriam part of the Emmys like he had his own show smh

— Talya (@_aylat) September 18, 2018
Let me see if I understand this, #Emmys, you're gonna show sportscasters, Hugh Hefner and John McCain in your In Memoriam, but you're going to exclude Mac Miller? Oh.. okay.

— Euphegenia Cloutfire (@noprahhh) September 18, 2018
Mac Miller should of been in that memoriam at the Emmy's no doubt. It's fucked up they left him out. Just saying. #Emmys #MacMiller

— Hallie🐾 (@BlushingICEE) September 18, 2018
Fans noted that Miller had his own reality TV show, 'Mac Miller and the Most Dope Family, which aired for two seasons on MTV2 from 2013 - 2014.
The Emmys are yet to respond.
Miller was found in his home in San Fernando on 7th September and was pronounced dead at the scene. An official cause of death is yet to be determined.
Tributes poured in from fans and artists alike, and a vigil was later held at Pittsburgh's Blue Slide Park, which Miller named his debut album after.