Lil Pump Reportedly Stopped His Wireless Performance To Save A Fan Having A Seizure
9 July 2018, 11:46 | Updated: 9 July 2018, 11:47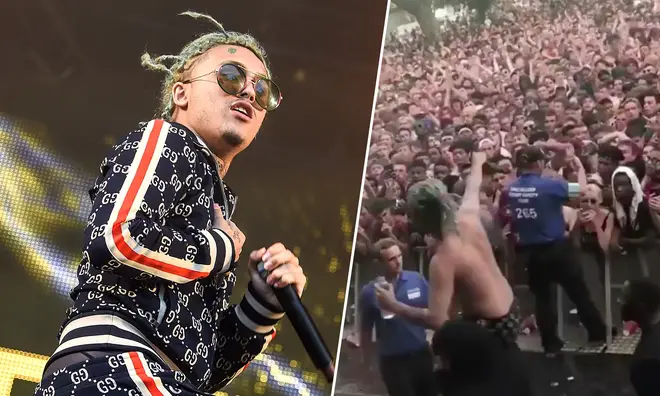 The rapper rushed to the aid of the festival goer.
Lil Pump stopped his performance mid-show at Wireless Festival this weekend after spotting a member of the crowd having a seizure.
The 'Gucci Gang' rapper was performing on the Pepsi Max stage on Sunday (8th July) at Finsbury Park when he spotted the crowd parting for a fan suffering in the crowd.
"Woah, woah," he yelled down the microphone before alerting medical staff. "Someone's having a seizure, we need paramedics."
After the festival-goer was pulled out of the crowd and taken to the side of the stage, Lil Pump could be seen following staff after leaving his set during the incident.
Someone had a seizure in front of me at lil pump and was turning purple. Had me thinking the worst. Hope my guy is okay. We turned up in his honour ❤️❤️

— 🦅 (@Bryan_hmm) July 8, 2018
The rapper was later assisted by a security guard back onto the stage to continue with his set.
Elsewhere, Sunday night also saw UK rapper Giggs dominate the main stage during his set before being joined by Drake to perform their hit 'KMT'.
The Canadian rapper - who was rumoured to be filling in for DJ Khaled following his headline slot cancellation - then took to the stage to close out the sold-out festival.