Lil Fizz trolled after Omarion leaves B2K out of his Millennium 2020 Tour
27 November 2019, 11:45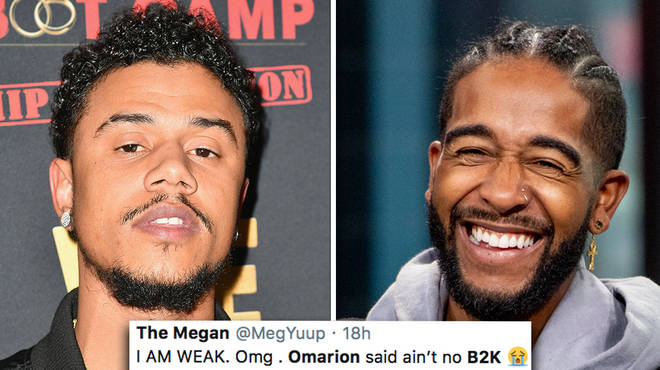 Omarion's fans have trolled Lil Fizz after the singer dropped his B2K bandmates from his Millennium 2020 Tour. The singer also announced the line-up on Lil Fizz's birthday.
Omarion has announced his Millennium 2020 tour, without his B2K bandmates. The 35 year-old singer announced the news on Lil Fizz 36th birthday, days after the pair threw shade at each other on social media.
On Tuesday (Nov 26th) Omarion took to Instagram to let his fans know that he's bringing the best R&B talent to perform at his Millennium 2020 tour. However, the "Ice Box" singer did not include his B2K members in the shows lineup.
Instead, the "Post To Be" singer Bow Wow and Soulja Boy will be joining them on the tour along with Lloyd, Ying Yang Twins, Sammie and Pretty Ricky.
Fans have noticed the bold move of Omarion announcing the news on Lil Fizz birthday, since he's now dating Omarion's baby mama, Apryl Jones.
Former B2K members Raz B and J-Boog have praised Omarion for his new tour. Raz B told TheShadeRoom that he is "falling back at this time" and added that he is still supporting Omarion who he called the "King Of Dance."
Raz B said "Omarion is my brother and he deserves the world. Love Mario," he added.
Meanwhile, J-Boog has called out Lil Fizz for "ruining" the tour for all the other B2K bandmates, due to him shading Omarion over dating his baby mama.
The Millennium tour focuses on Omarion and Bow Wow with their 2007 collab, The Face Off. The tour dates will be revealed on Dec. 2nd with pre-sale tickets being available on Dec. 5th. 
Fans have reacted to Omarion leaving B2K out of the tour on Twitter. See tweets below.
Lol Omarion won ☠️. He revamped the tour, left B2K out, and he got custody of the kids so Apryl won't see a dime of his money from the tour. King shit lol. https://t.co/iLPlvegkDZ

— Dr. DaBaby Future King, Jr., Esq. (@bigfish1906) November 26, 2019
On this day, November 26th 2019, Omarion announces the Millennium 2020 tour w/just himself and not B2K. Today is also Lil Fizz birthday.

the petty level is UNMATCHED. pic.twitter.com/N9i5WpGqb2

— Michael Damion Cookie🍪 (@Ashhuhlee) November 26, 2019
Omarion announced a Millennium Tour without B2K on Fizz's birthday. I have to Stan.

— Kirsten (@KirstenTheGreat) November 26, 2019