Kodak Black Responds To Getting "Stomped Out" During His Crowd Surf On Instagram Live
12 April 2019, 12:39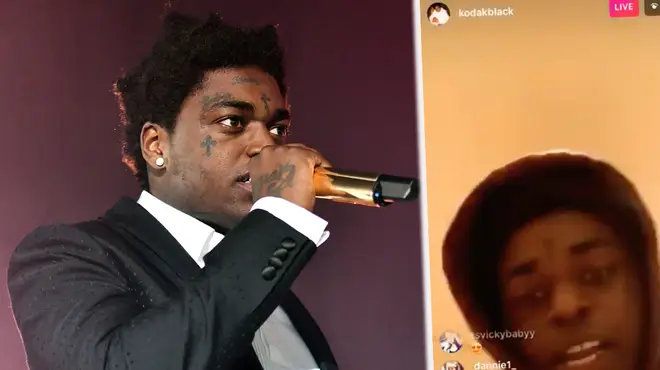 Kodak Black speaks out after rumours along with a video emerged of him getting "attacked" at his concert, during his crowd surf...
Kodak Black allegedly got attacked on Tuesday (9th Apr) during a concert where he performed, and decided to surf the crowd. Shortly after, video footage emerged, where it looked like the "Zeze" rapper was getting 'stomped out' by people in the crowd.
Rumours began to emerge the it was angry Nipsey Hussle fan's who 'jumped' the rapper, as he made disrespectful comments towards the late rappers girlfriend, Lauren London.
However, the Floridian rapper took to Instagram Live to address claims that he got 'jumped' when he was crowd surfing at the concert.
When the video footage was released online, fans speculated that Kodak Black was attacked by angry Nipsey Hussle fans who saw the opportunity to get him over his Lauren London comments, during his crowd surfing moment.
In the video clip, you can see that the artist becomes swamped by fans and is no longer spotted on the camera, after being on the floor.
Kodak Black's security is seen rushing to get to him, to remove him from the crowd, however, he was on the ground for quite a while.
The following day, Kodak Black took to Instagram Live to clear up the video of him allegedly getting 'jumped' by supposed Nipsey Hussle fans.
In the video, Kodak Black denies getting jumped with an egotistical energy. See the video above.
Kodak Black has been in several beefs with the whole internet and Nipsey Hussle's close peers T.I and The Game.
The beef came about when Kodak took to Instagram to make a move on Lauren London, just days after her boyfriend Nipsey Hussle was gunned down in L.A.
After Kodak Black disrespected late rapper Nipsey Hussle's girlfriend by saying she's "fittin' to be a whole widow" and encouraged her to "call his line".
Many social media users brutally attacked Kodak Black online, and were angered by 'horribly insensitive' and 'disresctful' comments.
After offering up a semi-apology, Kodak returned to Instagram Live to bring the situation up again, this time saying that T.I. was only mad because he wanted "first dibs" on Lauren London.