Kodak Black Fans Are Convinced The Rapper Has A Clone After Shock Jail Photo Emerges
9 July 2019, 14:29 | Updated: 9 July 2019, 14:31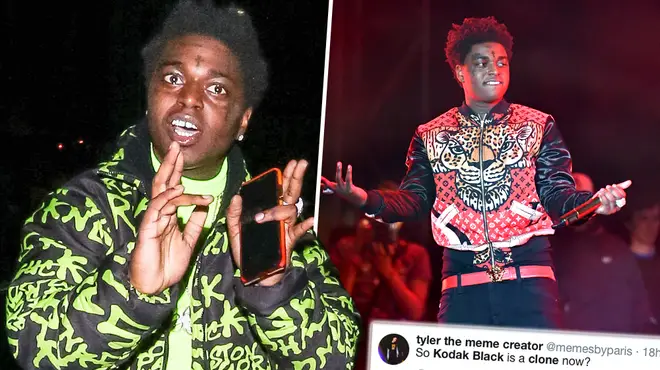 Kodak Black's fans have taken to Twitter to discuss whether the Floridian rappers new jail photos are of him or a clone.
Kodak Black's team has posted a photo of the rapper in a jail outfit behind bars on the Florida rapper's Instagram page. The photo has drummed up clone rumours as many fans point to differences between features, grills and weight gain.
Media personality DJ Akadmiks took to Instagram and posted a side-by-side photo of a photo of Kodak out of jail and the latest photo. Kodak's fans are arguing underneath his comments saying whether the photo is of a Kodak clone or not.
Many fans are pointing out that his grill went from platinum to gold. Other fans notice a difference in his features, such as a the shape of his eyes and a fuller face.
A fan on Twitter wrote "That's not Kodak black....that's Polaroid Brown,". Another fan wrote "So where's the real Kodak at?? Clone a**".
See fans reactions on Twitter below.
FREE THE REAL KODAK YALL CAN KEEP THAT CLONE

— alizay :) (@hazmaticora) July 8, 2019
They tryna clone Kodak i just know it. that's why they won't leave him alone.

— GGstrawberriana (@little_ratchet) July 7, 2019
...... for what reason would the government clone Kodak black? Like what? Lmao

— Lexus Dee✨ (@lexoDeezy_) July 9, 2019
Do you think Kodak has a clone ?