Kim Kardashian's Fitness Trainer Slams Trolls Following "Tiny Waist" Surgery Accusations
8 May 2019, 10:50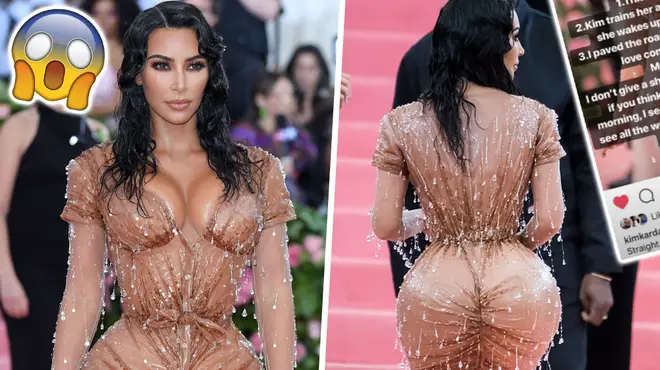 Kim Kardashian's personal trainer has taken to Instagram to slam the haters who accuse Kim of getting surgery, after seeing her Met Gala look.
Kim Kardashian's personal trainer has spoken out in her defence, after fans came for her cinched waist in her Met Gala 2019 look.
Some fans have accused the reality TV star of getting her ribs removed, liposuction and other forms of surgery, as her waist looked significantly smaller than usual. However, Melissa Alcantara has something to say to all the haters who have something to say about Kim's body.
The Kardashian/Jenner's are open about the lengths they go to highlight their curves, showing their workout regimes, strict diets and promoting "flat tummy tea" all over social media.
Kim Kardashian has often received backlash for her "curvy" body with critics debating whether she has had surgery or not. Many feminists also judge Kim Kardashian's image and think that she promotes unhealthy ideas about beauty for women.
Where did Kim Kardashian's internal organs spend the night at Met Gala? Because I can't figure out how anatomically possible it would be to fit them all inside that tiny waist.

— ellyce! (@ellycep) May 7, 2019
Some fans took to Twitter to express how they felt about Kim Kardashian's waist in the dress she wore to The Met Gala 2019.
Is Kim Kardashian the first woman to successfully remove ALL her ribs?? And how come everybody is reposting her shit so stunned and not concerned about her body??? SIS HAS NO RIBS?

— edummy: hot cheetos enthusiast (@stupiddammy) May 7, 2019
I wish @KimKardashian would use her platform to speak on things like body positivity but she keeps making her waist unrealistically narrow and her ass unrealistically big. It's disgusting and gross and why would you even? The shit people with money do

— srbuhi (@srbuhiii) May 7, 2019
Many fans have been referring to her body as "fake" after seeing the photos from The Met Gala 2019. The star's trainer has since hit back at Kim's critics on her Instagram story, defending her and her decision to show off her body last night.
Melissa Alcantara took to Instagram and wrote:
"To make things clear 1. This dress is corseted BUT 2. Kim trains her ass off 6 fucking days a week, she wakes up early af and is dedicated," wrote Melissa Alcantara. "3. I paved the road for her but SHE did the work!".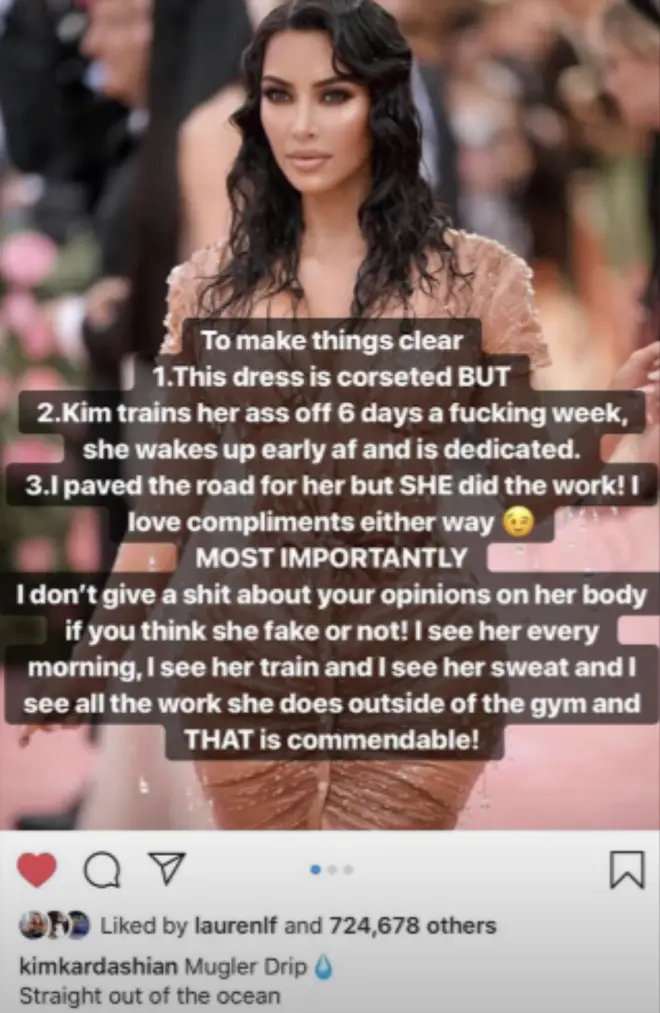 Alcantara writes a direct message to the haters, writing, "I don't give a sh*t about your opinions on her body if you think she fake or not! I see her every morning, I see her train and I see her sweat and I see all the work that she does outside of the gym and THAT is commendable".