Khloe Kardashian Savagely Trolled By NBA Star Claiming She Is "Using The Baby" To See Tristan Thompson
19 March 2019, 12:13 | Updated: 26 March 2019, 12:09
Khloe Kardashian has been slammed in a expletive rant by NBA Star Gilbert Arenas, who claims Khloe is using baby True as a pawn...
Gilbert Arena's isn't one to hold back from how he feels. The NBA star is known for speaking his mind, especially when it comes to celebrity gossip concerning the Kardashians/Jenners and he's now taken to Instagram to address how he feels about the Tristan Thompson and Jordyn Woods cheating scandal.
As well as talking on the cheating scandal, the NBA star publicly outed Khloe Kardashian and shamed her on Instagram. Gilbert Arena's attacks Khloe's private parts amid his Instagram bashing session.
The NBA Star took to Instagram and commented underneath a post about Khloe Kardashian stating:
"She needs to worry about her pu**y skills if every ni*** she dated cheated (pu**y trash)."
Gilbert Arenas continued, "You know how horrible your p*say gotta be for a ni*** to f*ck a (22 year old) ?? She only been using her pu**y a few years She ain't even a professional f*cker yet and he would rather deal with (C-minus vagina) He didn't even cheat on you with a (LeBron type of talent #veteran) he went for a Trey young exciting but no playoff experience." Arenas wrote.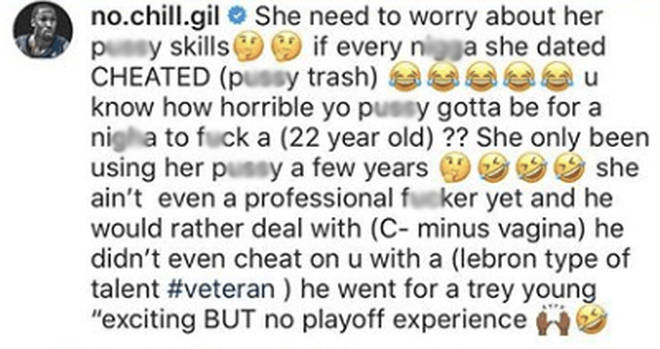 Recently, the tone of the conversation has changed in regards to Jordyn Woods after her Red Table Talk. Before Jordyn Woods attempted to claim her name, people were against the 21 year-old model.
Some fans began to defend her against the Kardashian-Jenner accusations. Other fans believe more of the anger should be directed towards Tristan Thompson, as he stepped out on Khloe.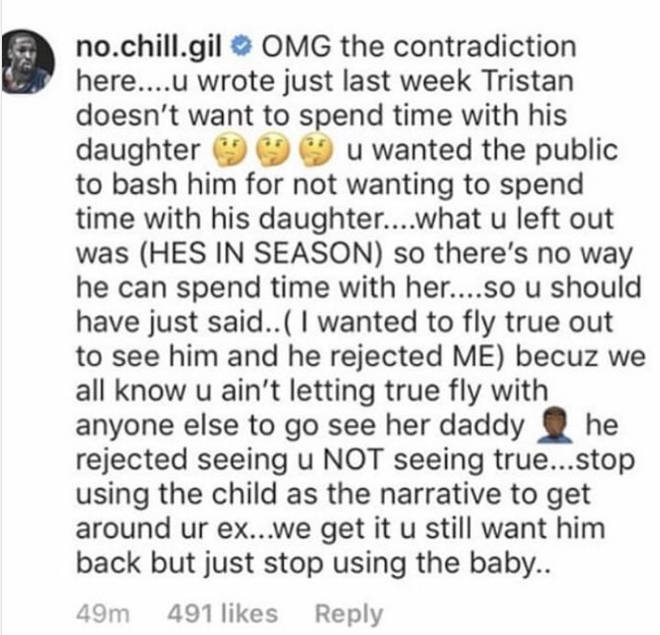 Arenas replied to Khloe's post saying that Tristan is a good father with a bashful paragraph. Arenas writes:
"OMG the contradiction here...U wrote just last week Tristan doesn't want to spend time with his daughter. U wanted the public to bash him for not wanting to spend time with his daughter…what u left out was (HES IN SEASON) so there's no way he can spend time with her….so u should have just said…(i wanted to fly True out to see him, and he rejected ME) becuz we all know u ain't letting True fly with anyone else to go see her daddy."
Gilbert Arenas continued on his rant stating, "He rejected seeing u NOT seeing True. Stop using the child as the narrative to get around ur ex. We get it u still want him back but just stop using the baby."
Thank you love! You're so very sweet. But he is a good dad to her. My sweet and special baby True will NEVER be put in the middle of him and I. I can promise that

— Khloé (@khloekardashian) March 16, 2019
Reports have revealed that Tristan's relationship with his daughter True has become strained after Khloe broke up with him. However, Khloe denies these rumours and took to Twitter to clear up the assumptions. Khloe Kardashian revealed that Thompson is a good father.
However, Arenas, took this opportunity to say how he feels on Tristan parenting True as he highlights Khloe's contradicting statements. The NBA star exposes that Khloe isn't telling the truth and using her daughter as a pawn.
Despite the negativity, Khloe seems to be dealing with the cheating scandal well, posting cryptic motivational memes. Malika Haqq, the reality star's BFF, has revealed to sources that Khloe is all good. Khloe hasn't responded to Gilbert Arena's comments, and with her new found positivity, she may not ever address him.
> Download Our Free App For All The Latest Khloe Kardashian News!