Khloe Kardashian Accuses Jordyn Woods Of Lying About Tristan Scandal On 'Red Table Talk'
1 March 2019, 18:16 | Updated: 1 March 2019, 18:18
Khloe Kardashian has slammed Jordyn Woods following her appearance on Red Table Talk With Jada Pinkett-Smith, and claims she's lying about the Tristan Thompson scandal.
Khloe Kardashian has accused Jordyn Woods of lying about her experience with Tristan Thompson during her appearance on Red Table Talk.
During her interview with Jada Pinkett-Smith, 21-year-old Woods claimed that she never slept with Thompson, contrary to popular belief, but he did kiss her at the end of a night of partying.
Woods claimed that she and a group of girlfriends went to Tristan's house after the club, and at one point sat on the arm of a chair he was sitting on, with their legs crossing each others.
However, Khloe insists Woods is lying, claiming she's spoken to Tristan privately and suggesting he's given her a different story.
"Why are you lying @jordynwoods ?? If you're going to try and save yourself by going public, INSTEAD OF CALLING ME PRIVATELY TO APOLOGIZE FIRST, at least be HONEST about your story. BTW, You ARE the reason my family broke up!"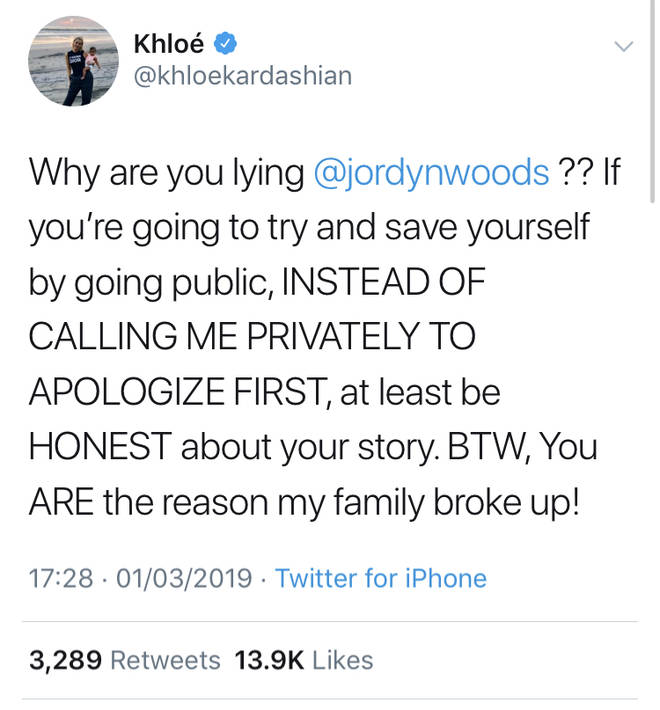 "Tristan is equally to blame but Tristan is the father of my child. Regardless of what he does to me I won't do that to my daughter," she adds in another tweet.
"He has been addressing this situation PRIVATELY. If Tristan were to lie publicly about what conspired,then yes I would address him publicly as well."
Woods is yet to respond to Khloe's tweets.