Kehlani dating history: from YG to 070 Shake
30 December 2022, 11:14
Who has Kehlani dated? Here is all we know about the 'Honey' singer's love life.
Kehlani is one of the biggest names in R&B and has graced listeners across the world with her songs like 'Nights Like These' and 'Toxic'.
The songstress came out as gay in 2021, after previously declaring that she is queer.
She has recently called it quits with girlfriend 070 Shake, and is now reportedly dating Kiara Russel.
Kehlani 'confirms' split from girlfriend 070 Shake in cryptic video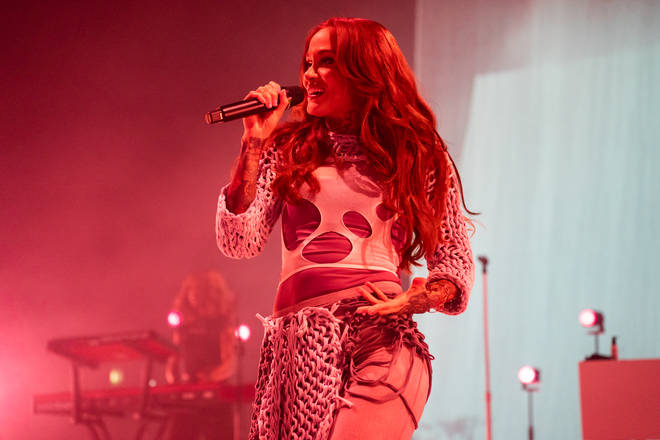 Here's a full list of Kehlani's relationships and rumoured flings.
Kiara Russell (2022)

Kehlani has debuted her new lover over the Christmas period, with fans working out that the girl featured in social media videos is Kiara Russell.

She is a basketball player and currently works as a graduate basketball assistant in Connecticut.

The pair made their debut in a since-deleted TikTok video where they exchanged several kisses in front of the camera.

070 Shake (2021-2022)

Kehlani and 070 Shake pictured in 2021.

Picture: Getty Images

The pair officially confirmed their relationship in May of 2021, but rumours of their relationship surfaced back in 2021 after they were spotted getting cosy together.

Kehlani and 070 Shake unfollowed each other on socials, which only adds more fuel to the fire for the breakup rumours.

"Play stupid games win stupid prizes", the Honey singer posted as a caption to a story, which seemingly referenced her girlfriend 070 Shake.

YG (2019-2020)

YG and Kehlani were seen in lots of PA's throughout their relationship.

Picture: Getty Images

Kehlani publicly dated YG in 2019 for a few months before calling it quits in early 2020.

The pair went public in September 2019 where they attended fashion week together.

In the months that have followed, neither of them said much about their breakup.

Javie Young-White (2018)

Kehlani briefly dated gutairist Javie in 2018.

The pair welcomed a child together in 2019, who they named Adeya.

On her arrival, Kehlani said that "Unmedicated homebirth was the absolute hardest yet most powerful thing I've ever done."

The pair welcomed a daughter together during their brief relationship.

Picture: Instagram

She said on Twitter that "All birth is extremely hard and transformative."

The couple have split and it is unclear whether they share custody on their daughter.

Demi Lovato (2018)

Demi Lovato shared a kiss with Kehlani.

Picture: Getty Images

Kehlani and Demi shared a kiss on stage back in 2018, leading people to believe that the pair were an item.

The singers were videoed getting hot and steamy with each other as they performed.

When speaking about the smooch, Demi said "I don't know, we just kissed each other."

"It wasn't planned. She totally surprised me and it was perfect. It was awesome."

Shaina Negron (2017)

Kehlani and Shania at a 2017 awards ceremony.

Picture: Getty

Kehlani dated artist Shania from July to November 2017.

There is not much known about the relationship, but the pair have been pictured together at an award show.

PARTYNEXTDOOR (2016)

PARTYNEXTDOOR is an American rapper. Picture: Getty

Kehlani reportedly cheated on Kyrie Irving with PARTYNEXTDOOR back in 2016.

The pair were rumoured to be dating, and he even released a song after Kehlani's name, and later changed the title.

This sparked a frenzy online after fans accused Kehlani of cheating on Irving with the rapper.

Kyrie Irving (2016)

Kyrie Irving is an NBA player. Picture: Getty

Kehlani dated NBA player Kyrie Irving way back in 2016.

She had expressed her love for Kyrie, saying she was celebrating the "first Valentine's Day of many" with the NBA star.

This did not last long as Kehlani was caught up in a cheating scandal wit none other than PARTYNEXTDOOR.

Rumoured Flings

Letitia Wright was spotted with Kehlani at an afterparty. Picture: Getty

In December 2022, actress Letitia Wright was spotted dancing with Kehlani at an afterparty after a London show.

Fans took to Twitter to have their say, with one responding, "kehlani grinding on letitia wright was not on my 2022 bingo card."

Another said "oooh i ship them", about the actress and singer.