Jake Paul Confirms Soulja Boy Fight With Face-To-Face Confrontation
5 March 2019, 17:38
Jake Paul confronts Soulja Boy and things get heated. A celebrity boxing match is on the way...
Soulja Boy has been the topic of conversation lately, with the rapper being the starter of petty beefs with Tyga and Blac Chyna, but it looks like another one is about to erupt. Jake Paul and Soulja Boy have gone back and forth, but now it looks like the rapper is ready to throw hands at the YouTube sensation in a celebrity boxing match.
Last Friday (Feb. 28), Jake Paul and Young Draco got into a heated argument via Instagram Live session, which resulted in Soulja telling Jake to pull up at his crib.
Surprisingly, the vlogger listened to Soulja Boy's instruction and pulled up to his house. Showing no fear, Jake and his friend rolled up to the "Crank That" artist's house and it all went downhill.
In the video that was released on Jake Paul's YouTube channel, Soulja can be heard shouting "You can't beat me, bro" at Paul. Meanwhile, Paul tells Soulja that he's ready to fight but he hasn't signed the contract.
When Jake Paul pulled up to Soulja's house, he didn't seem shook. Infact, he was the opposite and warned Jake to "get off his lawn,". Paul disses Soulja Boy straight away, telling Soula he's "shorter in person," despite Drako's attitude.
The pair square up and get close, doing the face-to-face fighting gesture, upping the intensity of their respective threats. Paul uses Soulja Boy's smoking as a reason why he cannot handle him. "You're smoking right now, bro," laughs Paul. "How are them lungs, bro?"

"I'm ready bro, we can sign it tonight," states Soulja. "Print the paperwork out fool, I got the money." Paul then adds, "YouTube is ready," before Soulja responds, "Let's do it, I'm the king of YouTube."
After the pair go at each other, head butting each other and engaging in fighting talk. Paul tells Soulja to prepare for the celebrity boxing match and do his part.
In the video, Drako seems eager to oblige. However, Paul thought Soulja was "lacking." The pair continue to work out a deal for the celebrity match and eventually shake on it.
Paul suggests a pre-fight on site and Soulja responds "You best stop playing with me fore I take my shirt off,". Jake then responded "Why you want to take your shirt off for, bro? Damn, Soulja.".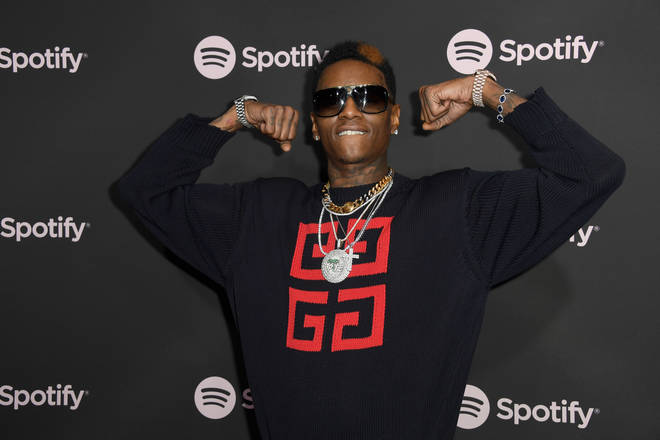 Ultimately, it looks like a boxing match between Soulja and Paul is likely going to happen.
Last month, Paul was very adamant about fighting Soulja. "It's pretty serious," he said. "I'm trying to fight him. I know it'll blow up."We don't have any additional information about this fight, but Soulja did mention that he wanted to get Floyd Mayweather, Jr. involved to help promote the boxing match with allegedly offering $20 million.