Flo girl group members: Who are Stella, Renée and Jorja?
24 March 2023, 15:11
FLO Answer The Most Impossible Questions 👀 | Capital XTRA
Meet Flo: the hottest R&B girlband since Destiny's Child.
Girl group Flo are everywhere since breaking into the R&B scene in March 2022 with their breakout viral hit 'Cardboard Box'.
Since then, they've released an EP, had a feature on a Stormzy track, and have won their first BRIT award.
But who are Stella, Renée and Jorja? Here's everything you need to know about the three members of Flo.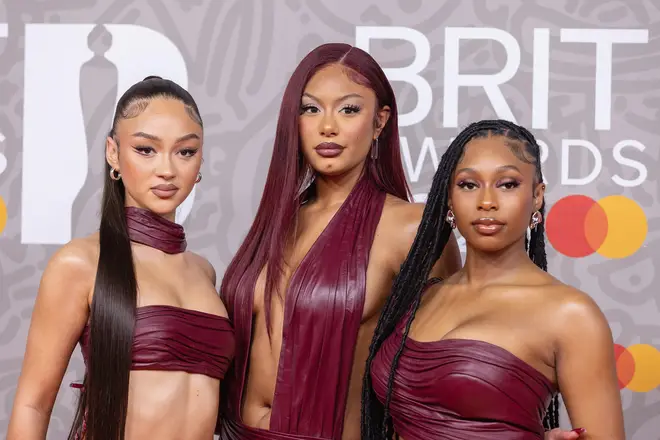 Who are girl group Flo?

Flo are a three-piece girlband hailing from London. They formed back in 2019 after Stella and Reneé knew each other from school and Jorja joined through auditioning.

They spent time in the studio to perfect their sound before releasing the MNEK-produced track 'Cardboard Box' in March 2022.

Since then, they released their debut EP 'The Lead' in the summer of 2022 and have dropped 'Losing You' and 'Fly Girl' featuring Missy Elliott as stand-alone releases.

Flo hail from London. . Picture: Getty

They signed to Island Records in 2019 and have already won awards thanks to their relatable lyrics and insane talent.

Flo were named the BRITs Rising Star of 2023, following on from the likes of Adele, Sam Smith and Griff to have won the award and gone on to achieve immense success.

They became the first group to win the award, which confirms that they are destined for greatness.

Where can I follow Flo on social media?

Flo are pretty active on social media, and can be found at @flolikethis on TikTok, Twitter and Instagram.

Reneé Dower

Renée Downer was born and raised in North London and grew up listening to R&B, church gospel and house music.

Prior to her fame in Flo, Renée worked in H&M in London after leaving Sylvia Young Theatre School, where she met fellow member Stella.

Renée was born on September 23, 2002, making her currently 20-years-old.

She can be found on Instagram @renee_downer.

Renée is currently 20-years-old.

Picture: Instagram

Stella Quaresma

Stella was born on November 27 2001, making her currently 21-years-old.

She was born in Kingston Upon Thames, Surrey and moved to Mozambique at four and moved back to England when starting school.

She met fellow band member Renée Downer at the Sylvia Young Theatre School and worked as a waitress prior to joining Flo.

You can find Stella on Instagram @stellaquaresma_

Stella is one-third of Flo.

Picture: Instagram

Jorja Douglas

Jorja was born in Germany on January 2, 2002. She later relocated to Hertfordshire at the age of eight.

She shot to fame in 2017 as the winner of CBBC show 'Got What It Takes?' and joined Flo years later.

Before joining Flo, Jorja worked for an accountancy firm.

You can find Jorja on Instagram @jorjadouglas.

Jorja is 21-years-old.

Picture: Instagram
FLO On Matching Tattoos, Working With Stormzy & More | Capital XTRA