Doja Cat new album 'Planet Her': release date, tracklist, features & more
25 June 2021, 12:04 | Updated: 6 March 2023, 15:47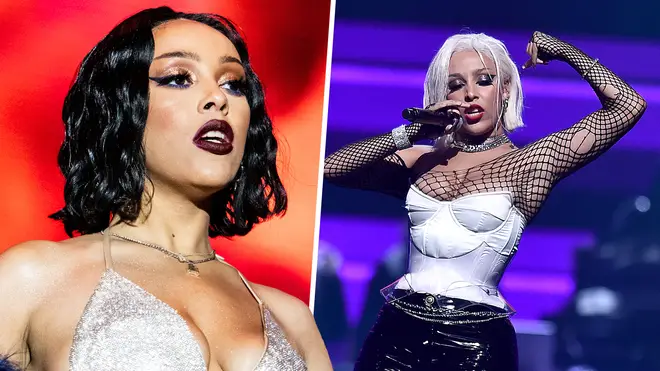 Doja Cat has officially released her highly-anticipated album 'Planet Her'. Here's everything you need to know about the project...
Doja Cat has officially released her album Planet Her, which dropped on Friday (Jun 25th).
The California rapper dropped her sophomore album Hot Pink in November 2019. The record was universally well-received, so fans have big expectations from her new album.
The singer-rapstress originally gave fans a taste of what was to come with the release of her hit single 'Kiss Me More' featuring SZA which dropped in April.
Now, the whole album has been praised by fans. Here's everything we know about Planet Her.
When is Doja Cat's new album 'Planet her' coming out?

Doja Cat announced that Planet Her will be dropping on Friday 25th June, 2021.

On 10th June, Doja unveiled the album's artwork and tracklist on Instagram, which in clouds Ariana Grande and Young Thug.

Doja Cat has announced that Planet Her will be dropping on Friday 25th June, 2021.

Picture: Instagram/@dojacat

In September 2020, Doja Cat previously revealed that she had finished the record, but explained to Fat Joe on Instagram Live that she wanted to create a well thought-out release plan.

"It's all ready. It's all ready. I hate that I'm holding on to it right now, I don't like this because every time I go on Twitter, I go on Instagram I see everybody is like, 'Put it out, put it out', and I'm like, 'I would', like, you have to plan things accordingly and there's a lot going on," she said.

"So to just drop everything tomorrow or in five minutes…yeah I'd love for you to hear it but you just can't be doing stuff like that."

Doja added, "[Fans] are gonna get an album that I – 100 per cent – am ready to drop, and I am overly excited."

The 'Say So' rapstress told MTV News that her new album will feature a variety of genres and sounds spanning afrobeat, dancehall, funk, and house.

"It's very similar to 'Hot Pink' in the sense that each of the songs do have their own kind of personality," she said to the publication. "It's not gonna be perfectly consistent, I've never been anyway."

Is Doja Cat releasing a visual album?

Doja Cat has hinted that a visual album may be coming on Friday, with an Instagram post advertising the 'Doja Cat Planet Her experience', in collaboration with Amazon Music.

The star then captioned the post "I'm taking a trip to PLANET HER with @amazonmusic this Friday #AmazonMusicPlanetHer".

Doja also hinted at some more visuals dropping June 24th, with a post captioned: "Verified Check out my @YouTubeReleased episode this Thursday at 11:45pm EST".

Alongside a post that says: "The week's official premier party + music video drop".

Who will feature on Doja Cat's new album?

Doja Cat revealed the tracklist to Planet Her in June, which includes featured from a whole host of famous names.

Young Thug ('Pay Day'), Ariana Grande ('I Don't Do Drugs'), The Weeknd ('You Right'), and JID ('Options') all feature, as well as SZA on the previously released 'Kiss Me More'.

Doja Cat revealed the tracklist to Planet Her in June, which includes featured from a whole host of famous names.

Picture: Instagram/@dojacat

In January, Doja Cat previously revealed a few artists that she has enlisted for her upcoming third album.

The star claimed that the project may feature; SZA, The Weeknd, Ariana Grande, French Montana, Megan Thee Stallion, A$AP Ferg, Saweetie, and Young Thug.

However, the star did mention that she'd like to collaborate with more artists in the future, such as; Billie Eilish, Ariana Grande, SZA, Pharrell Williams, and Nicki Minaj.

What is the tracklist to Doja Cat's new album?

The tracklist to Doja Cat's album Planet Her is as follows:


1. Woman
2. Naled
3. Pay Day feat. Young Thug
4. Get Into It (Yuh)
5. Need To Know
6. I Don't Do Drugs feat. Ariana Grande
7. Love To Dream
8. You Right (Doja Cat and The Weeknd)
9. Been Like This
10. Options feat. JID
11. Ain't Sh*t
12. Imagine
13. Alone
14. Kiss Me More feat. SZA