Lori Harvey & Michael B. Jordan relationship timeline: pictures, videos & more
6 June 2022, 09:55 | Updated: 13 January 2023, 14:25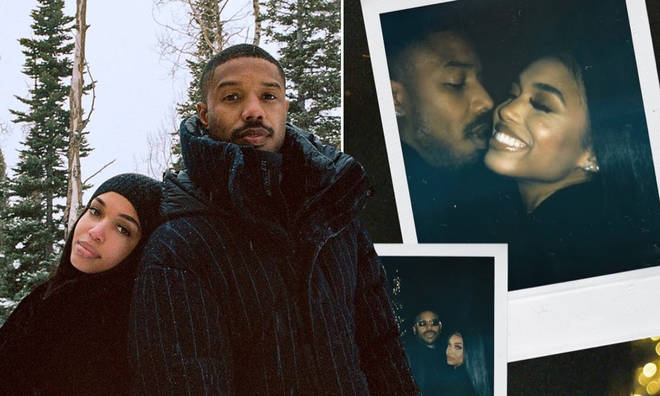 Everything you need to know about Michael B. Jordan and Lori Harvey's dating timeline.
Lori Harvey and Michael B. Jordan publicly confirmed their relationship at the beginning of 2021, after months of dating speculation.
The 25-year-old stepdaughter of Steve Harvey and the Black Panther actor, 34, put on a cosy display in January after reportedly spending Thanksgiving together.
Lori, who has previously dated Future, Diddy, Trey Songz and Memphis Depay, also spent her 24th birthday with the Hollywood hunk.
Here's a comprehensive timeline of their relationship so far.
June 2022 - Lori Harvey removes all photos of MBJ from her Instagram

Following news of Michael B. Jordan and Lori Harvey's split, fans noticed the model removed all photos of the Creed star from her Instagram.

At this moment of writing, MBJ still has all photos of himself and Lori on his Instagram.

One fan wrote: "one thing about Lori she gon move on" while another added: "Michael working...said I'll get to it when I get to it"

June 2022 - Michael B. Jordan and Lori Harvey reportedly split

Michael B. Jordan and Lori Harvey have ended their relationship, according to a People report on Saturday (May Jun 4).

The 35-year-old actor and the 25-year-old model reportedly broke up after having dated for around one and a half years.

A source close to the ex-couple told the publication that they were 'completely heartbroken' about their break up and they 'still love' each other.

'Michael matured a lot over the course of their relationship and was ready to commit for the long term,' the source added.

The couple have called it quits after being together for a year and a half. Picture: Getty

'He let down his guard with her, opening up emotionally in a romantic relationship for the first time.'

'They had great times together and brought out the best in each other.'

The pair have not yet commented on their split.

January 2022 - Michael pays tribute to Lori on her 25th birthday

Michael paid tribute to Lori on her 25th birthday.

Picture: Instagram

The pair kicked off Lori's birthday celebrations with a sun-drenched trip, with Michael sharing a snap of the model napping on his chest with the caption, "All that winning got you tired!"

The actor also shared a wholesome tribute video dedicated to Lori on her 25th birthday, writing, "Happy B-Day to my turtle. My favorite Patna in crime."

December 2021 - Michael B Jordan reveals why he went public with Lori Harvey

While speaking to the Hollywood Reporter, the private star who rarely shares insight into his personal life, explained why he felt comfortable to go public with Lori.

"The situation for me was real enough [to share]. There's a premeditated planning of staying out of the way [of the public eye] that sometimes kills spontaneity and intimacy," Jordan explained. 

He continued: "I wanted to take that away and give this the best chance it had, in this weird world that we live in, to be somewhat normal. Long story short, I think it's just the timing of everything. It was the right time for me. Yeah. I'm happy."

"When I was younger, I don't know if I could have handled the onslaught of opinions and being picked apart, and also being conscious of what the other person's going to go through," Jordan added. "It takes a special person to deal with that."

Sept 2021 - Lori Harvey details what makes Michael B. Jordan special to her

During an interview on The Real, Lori revealed that her boyfriend Michael has made a great impression, not only on Lori, but her family too.

Speaking of his relationship with her mother Majorie: "They're actually really close," she says. "They talk all the time. They hang out.

They've gone out on their little lunch and dinner dates. I don't even know about [it]. He's like, 'oh yeah, I just took your mom to dinner.' I'm like, 'okay! That's cute.'" She added, "I'm like, 'y'all talking about me?' They're like 'yes!' They have a really good relationship."

Lori revealed that her boyfriend Michael has made a great impression on her family.

Picture: Getty

The star spoke of what makes hers and Jordan's relationship special, stating: "We just really balance each other and I really believe in the statement, 'when you know you know,'" she said.

She continued: "I think that really applies to our situation. You know, we just have a really good time together. He's so sweet. Very attentive. He listens to me, the things I say that I want and he really makes an effort. So I think that's what's special about it."

Lori added: "It's the little things, the everyday things is what I think really is what makes him special," she said. "He just listens to me when I talk. Even the other day I'd just been saying I really want to go to a farmers' market.

And so he like called me one Sunday morning and was like, 'What are you doing? Get dressed. I'm about to come pick you up.' And he like took me an hour away to this really cute farmers' market. We had the best day. It's things like that."

July 2021 - Lori and Michael enjoy another vacation together

Lori and Michael shared some PDA action while on holiday together.

Picture: Instagram/@loriharvey

The couple cosied up to each other in some loved-up poolside snaps, with Lori sharing a video from their luxury vacay.

"I love you," says Lori, to which Michael replies, "I love you too, baby."

They also shared a video of themselves cuddling in the pool, which Lori captioned "Thank you God." Michael commented, "So grateful baby."

The Hollywood actor also shared a video of the pair sitting side-by-side on a bench looking out towards the ocean with the caption, "Best feeling in the world…"

June 2021 - Lori Harvey opens up about her relationship with Jordan

During an interview with Bustle, Lori spoke about the first time she met her now-boyfriend and explained the reasoning behind her low-key approach to fame.

"We met actually a few years ago," Harvey said when asked about her first encounter with the Hollywood actor.

"We had some mutual friends. I think we met out, just in passing." when asked about how she felt when they first met, Lori giggled, "I was like, 'He's cute!'"

Lori said that both her and Jordan - who she later described as "super humble" - are "very private people naturally," and said they often discuss how much of their relationship they want to share with the world.

"So we just decide, if we take a picture or whatever it is, do you want to post this? Do we not? We have a conversation about it, like, 'You want to post this or we keep this to ourselves?'"

"We know there are people that love and support us and want to see us," she added. "So [we want to] give just enough, but keep the majority of it just for us. We're trying to find a balance."

Lori revealed that her family took to Jordan straight away, saying, "I knew they were going to love him, which they did. [The introduction] was good. It was easy."

April 2021 - Michael B. Jordan says he's "extremely happy" with Lori Harvey.

in a new interview with People, Michael B. Jordan revealed why he feels ready to share his love life with his fans.

'I am extremely happy,' the notoriously private actor, 34, told the publication.

Jordan continued: 'I'm still private, and I want to protect that, but it just felt like it was a moment of just wanting to put it out there and move on.'

He added: 'I think when you get older, you feel more comfortable about the [public nature] of the business that we're in.'

'So for me, it was a moment to, I guess, take ownership of that and then get back to work.'

March 2021 - Steve Harvey gushes over Michael B. Jordan

Lori Harvey's stepfather, Steve Harvey, sang Michael B. Jordan's praises during an interview on The Ellen DeGeneres Show.

"I have tried to find something wrong with [Jordan] that I could dig in and go. 'Cause I done got rid of all of them. All of them. Some of them that snuck in the back door on me and lasted a lot longer than I wanted it to," the entertainment star joked.

Steve Harvey is married to Majorie Harvey, who is Lori Harvey's mother. Picture: Getty

"This guy is such a good guy, man," he continued, "He is one of the nicest guys, man. I've met his father. I've set up with him, we've talked for hours. I just can't find nothin' wrong with him.

"Between me and you, I'm hoping this lasts 'cause this is a really, really good guy, man. I can't whoop him. Most guys, I say I can jump on 'em and take 'em out, but he just looks like a real ass-whoopin' in the making. So I'm just hoping they make it."

February 2021 - Valentine's Day

On Monday (Feb 15) Lori Harvey shared snaps of her romantic Valentine's Day with Michael B. Jordan.

The 24-year-old model took to Instagram stories to show the lavish private dinner date that she and Michael, 34, had – inside an aquarium.

Michael B. Jordan rents out aquarium for Lori Harvey on Valentine's Day.

Picture: Instagram

'My baby rented one the aquarium so we could do a private tour and see the turtles and then we walked into this,' Lori shared on her Instagram story.

Harvey showed her followers the aquarium, which was dressed up in red, white and pink petals on the floor along.

Lori Harvey shares snaps of the aquarium Michael B. Jordan rented for Valentine's Day.

Picture: Instagram

There were also lit candles on the floor, leading to a fancy dining table. Harvey took out her Happy Valentine's Day card, which was tucked into a black napkin on the table.

The card had a menu for their dinner and Lori wrote 'And he had Nobu cook dinner for us' as a caption.

Lori Harvey reveals the menu to her and Michael B. Jordan's luxurious Valentine's dinner date.

Picture: Instagram

Lori also showed off a furry turtle Michael gifted her, to match his nickname for her. Jordan calls Lori 'turtle', while she calls him 'nugget'.

The model also posted a certificate from Hermes International with the caption 'The best gift ever...Baby bought me stock in Hermes'.

Watch the snaps from Lori Harvey and Michael B. Jordan's Valentine's Day dinner date below.

February 2021 - Michael B. Jordan's birthday

Michael B. Jordan received a gushing tribute from his girlfriend Lori Harvey on his 34th birthday.

On Tuesday (Feb 9), Harvey took to Instagram to share series of photos of her and Jordan together.

'It's my baby's birthday' Harvey captioned a post where she was out celebrating the Black Panther actor's birthday.

Lori Harvey celebrates Michael B. Jordan's birthday.

Picture: Instagram

In a montage of photos, Harvey called Jordan 'My favorite headache', 'my big baby', 'my best friend', 'my sweet, stubborn crazy a** aquarius', and 'the sexiest man alive.'

Jordan reposted one of the posts and added: 'Thank you my love.' 

On her Instagram feed, Harvey also shared a few photos of herself and Jordan, which were taken on her birthday.

She captioned the photo "Happyyy Birthdayyy Nugget 🎂
I love you baby...hope today has been at least half as special as you are".

A source recently told ET that their relationship is moving at a fast pace and family and friends fully approve of the pair being together.

'Michael B. Jordan's family likes Lori, and vice versa,' the source told the publication.

'Lori is everything Michael's family could have hoped for him to find. She's lovely, respectful and fits in perfectly.''Her friends also think he's great for her,' the insider added. 'They're both totally invested, committed and very happy.'

January 2021 - Steve Harvey breaks his silence

Steve Harvey, Lori's stepfather, spoke out on Lori's relationship with Michael for the first time during an interview on iHeartRadio.

"I like this one," Harvey said of Jordan. "I still got my eye on him. I mean I like him, but like I say to all of 'em, 'I might like you, I might approve of you, but I got a thumb-size section of my heart filled with nothing but pure hatred for your ass. Just in case I need it.'"

"Like right now? Nice guy," the TV personality continued. "But I got this little section partner, where all I gotta do is click a switch and I can hate your ass." 

Harvey then joked about Jordan's reining title as People's '2020 Sexiest Man Alive'.

"'Cause, you ain't the sexiest man in the world to me!" he said "Let's be clear about that."

January 2021 - St. Barts vacation

Lori and Michael were spotted packing on the PDA during a vacation in St. Barts in January.

Picture: Instagram

Lori and Michael were spotted packing on the PDA during a vacation in St. Barts in the middle of January.

The loved-up couple were seen enjoying the sun on a mega-yacht in the Caribbean, soaking up the rays and riding jet skis together.

January 2021 - Lori's 24th birthday

When Lori turned 24 on 13th January 2021, Michael shouted out his girl on Instagram with a photo of the pair bundled up in winter coats.

"10:10 HBD," he wrote, alongside a turtle emoji. 'Turtle', it turns out, is Jordan's nickname for Lori.

Jordan also shared a video of the pair play-fighting in the snow, which starts with Lori eyeing the camera as she snuggles up to the actor.

Meanwhile, Lori shared some snaps from a birthday-theme photoshoot, with one showing her dipping her fingers into a vanilla birthday cake.

"Gimmie!! Sheeesh!! Happy Birthday Turtle!!" Michael commented, to which Lori replied, "Thank you nugget". Looks like Lori isn't the only one with a nickname!

January 2021 - Instagram official

Michael B. Jordan and Lori Harvey confirmed their romance in early January 2021.

Picture: Instagram

After months of speculation, Lori and Michael finally confirmed the rumours by posting a number of loved-up photos together on their respective Instagram accounts.

Lori shared a couple of polaroids; one of the pair in front of a Christmas tree, and another of Lori beaming while Michael leans in for a kiss.

Michael shared two dimly-lit photos of himself and his new girlfriend in front of the same setting.

December 2020 - New Year's Eve

A month after being spotted together for the first time, Lori and Michael were pictured exiting a plane in Utah ahead of New Year's Eve.

At this point, neither had commented on their suspected relationship, but the rumours were already bubbling across social media.

November 2020 - Thanksgiving

Rumours of Michael and Lori's romance first kicked off in November 2020, when the pair were spotted leaving a flight together.

They had just touched down in Lori's hometown of Atlanta, Georgia ahead of Thanksgiving, heavily hinting that the pair were spending the holidays together.