Black owned businesses in the UK: Food, beauty, finance, books and more
14 October 2022, 14:33 | Updated: 14 October 2022, 15:32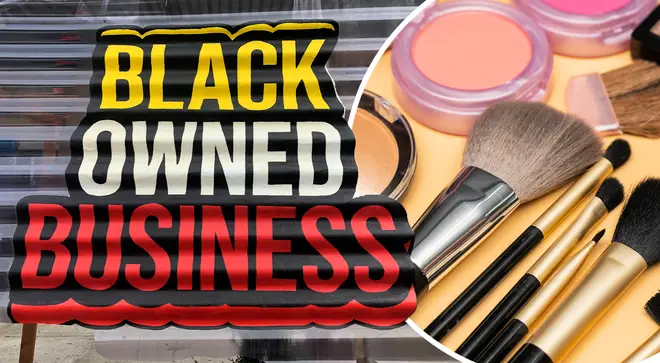 We're bringing you a list of thriving and upcoming black-owned businesses across the UK!
In light of the Black Lives Matter movement, we want to shine a light on upcoming and well-established black-owned businesses, which deserve to be supported and praised.
From food, beauty, fashion – to finance, education and everything in between, we have you covered!
Take a look at a few thriving black-owned businesses in the UK below...
Food

Prince of Peckham Pub - Clayton Rd, Peckham

Located in Peckham, South London's predominately Nigerian district, Prince of Peckham is a go-to pub, which is a pop-up shop to their White Men Can't Jerk.

Red Rooster - 45 Curtain Rd, Hackney

Red Rooster's menu is heavy on American soul food with a touch of East African influence. They serve dishes such as chicken and waffles and shrimp and grits.

Trap Kitchen - 76 Bedford Hill, Balham

The restaurant serves an American and Carribean style of eclectic seafood along with delicious sides.

See other Black-owned restaurants in London below.

Beauty

Xsandy's - Unit 57, 73 Molesworth Street, Lewisham

A wholesale and retail hair distributor, founded by Sandra Brown-Pinnock, creator of the "Xsandy's" brand of hair extensions offers a selection of hair, body products. Xsandys's is a black-owned hair and beauty store in South East London!

Rudy's Hair & Beauty Care - 375 Hoe St, Walthamstow

A hair and beauty brand offering a variety of services. Healthy hair and skin are the brands additions to promoting self-care – among nutrition, exercise, relaxation and a positive mental attitude to life.

Golden Touch Hair & Cosmetics - 81 Woodgrange Rd, Forest Gate

A thriving business offering the hair care and beauty cosmetics in Forest Gate.

See more black-owned beauty businesses in London below

Online Beauty

For those who don't live in London, there are lots of black owned businesses ready to purchase from online.

Ori Lifestyle - https://www.orilifestyle.com

Ori Lifestyle is a hair, skin and overall wellness company that pledge that their products are made with the finest and highest quality ingredients.

Their products include combs, shampoos, conditioners and hair treatments.

As well as having their own website, Ori can be found in Selfridges and Harrods.

Beauty Bakerie

This makeup company was founded by Cashmere Nicole, after a cancer battle and teenage pregnancy inspired her to launch her own cosmetics brand.

Every product is inspired by baking - hence the name -, including 'flour' powder and 'blending egg' sponge.

Flo

Black-owned femcare brand Flo's mission is to 'create a world where people feel crazy confident and empowered in their life's messiest moments.'

Amongst theirn products is period items, bladder care and condoms.

Their products are stocked in Boots, Holland and Barrett and other retailers.

Music

Disturbing London - Label

This label has been founded by artist and fashion icon Tinie Tempah and Dumi Oburata.

This label has supported the likes of Wizkid, A2 Yxng Bane, Yungen and more.

Westend DJ - 10-12 Hanway St, Fitzrovia, London

A black-owned store for amplifiers, decks, lighting and other DJ equipment from a variety of leading brands.

The store supplies professional music production equipment.

Shoobs founder and CEO Louise Broni-Mensah launched the business in New York after finding success in the U.K.

The company is an online event ticketing solution for small to mid size entertainment event organisers, promoting some of the best music events.

Fashion

Tax3 is a premium streetwear brand founded in East London. The brand was established in 2017, and gained significant traction through their creative and innovative looks.

The brand is renowned for it's unique designs and bringing an authentic edge to the fashion industry.

London-based fashion stylist Irene Agbontaen makes clothes clothes that cater to taller women.

TTYA aka Taller Than Your Average - is made for women who are 5'9" or over.

Black owned business which offers a variety of Afro Caribbean print dolls, flag pillows and accessories.

KAEB (searched httpsKAEB) is a premium designer brand offering unisex clothing and accessories.

The brands strapline 'Everything in Life Has Meaning' represents what KAEB is about.

The brand 'KAEB' is an acronym for (K)eepsake(A)spirations(E)legance(B)lessed.

'The Underargument' is an lingerie brand founded by designer Maïna Cissé, which advocates the power of individuality and aims to challenge ideas of normativity.

Each lingerie collection is labelled with an empowering quote to remind the customer to embrace their individuality.

FullyPaid Clothing was established in 2017 as an independent brand in East London, UK.

The brand started off by selling T-shirts and went on to add tracksuits, jackets and sliders to it's roster of clothing.

Rapper and actor Ashley Walters will be attending the launch while promoting his collaboration with the brand for their 'FP X AW' collection.

Lifestyle and Well-Being

Ankh Wellbeing Centre - 10 Adelaide Grove, White City, London

An alternative and holistic service offering an Afrikan Natural Konnection To Health - Mind, Body & Spirit

A service which aims to make mental health topics relevant and accessible for all black people in the U.K.

The business connects black individuals and families with professional mental health services across the U.K

CEO Shanley Lewis started a thriving business to help people practice self care with solutions to improve their mental health & wellbeing.

Books and Education

This south London publisher offers Africa-orientated literature, including essays, history, novels and children's books.

Londoner Angel Miller created No Ordinary Book Shop which, sells children's books centred around BAME characters.

This book store in Tottenham provide African-centred books to the Black Community.

Finance

Owned by Dr. Adesola Kazeem Adeduntan is a wholly owned subsidiary of First Bank of Nigeria Plc, with offices in the heart of the City of London.

They are the "London bank for Nigerians, either resident in the UK or simply visiting."

Founded by Jim Ovia, became a member of Nigerian-based Zenith Bank Group.

Zenith Bank was licensed by the Financial Services Authority of the United Kingdom to establish Zenith Bank (UK) Limited, back in 2007.

U.K Black Owned Businesses thread

UK black-owned businesses for daily use items.

A thread

👇🏾

— Jamii (@UKJamii) June 3, 2020

SMALL BUSINESSES THREAD 🛍

If you have a small business, tag yourself below! Either UK based or ship internationally if you're located abroad

Pop below a brief description, some pics and a link to purchase!

Let's support each other 🤝

— kae (@ikeeyah_) May 20, 2020