Bhad Bhabie challenges Woah Vicky to a $1 million boxing match following studio fight
12 November 2019, 10:36 | Updated: 16 January 2020, 16:57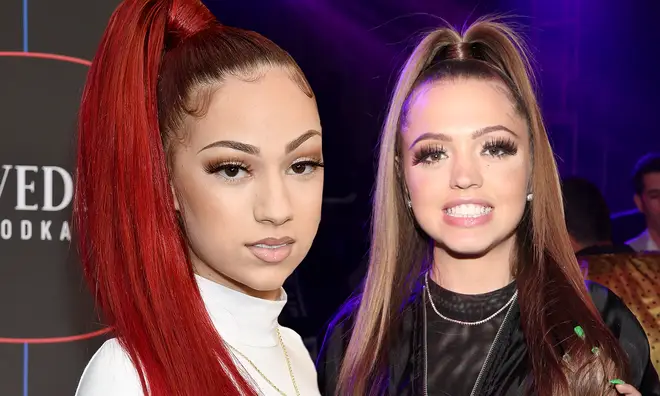 The 'Gucci Flip-Flops' rapper wants to fight her nemesis again.
Move over KSI and Logan Paul - there's another viral Internet sensation showdown on the horizon, if Bhad Bhabie has her way.
After getting caught up in a physical scrap with fellow rapper Woah Vicky at an Atlanta recording studio last month, the 16-year-old 'Gucci Flip-Flops' rapper has challenged her rival to a boxing match.
Bhad Bhabie, whose real name is Danielle Bregoli, responded to a tweet suggesting that the pair go head-to-head following the success of KSI and Logan Paul's record-breaking fight.
"Now let's make @BhadBhabie vs @RealWhoaVicky happen. That fight'll break every record online," read the tweet. Bregoli replied, "1 million and I'll fight that horse toothed h** in the ring. @LoganPaul @jakepaul cut the check."
Soon enough, Woah Vicky, whose real name is Victoria Waldrip, responded to Bregoli's proposition. In a pinned tweet, she wrote, "Tag @AtlanticRecords, tell em to drop this h*, @BhadBhabie, b4 I drop her again. She aint got shi goin."
In the original fight video, Waldrip, 19, could be seen climbing on top of Bregoli and throwing punches towards her before a screaming and kicking Bregoli was dragged away by a group of bystanders.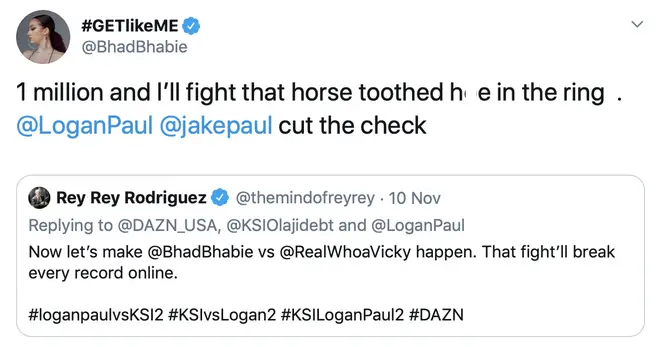 Bregoli later took to Instagram Live to reveal her side of the story amid online speculation that Waldrip was victorious in the fight, claiming that her rap rival didn't leave a scratch.
"What you see is her on top of my throwing punches and missing," says Bregoli, before pulling up her top to display her unscathed torso. "Look at my body, where do you see any... I'm not bruised up nowhere! Get the f*** out!"
The 'Gucci Flip-Flops' rapstress claims that she incited the brawl by telling Waldrip to pull up to the studio and fight her "one-on-one."
Less than 24 hours later, Woah Vicky unleashed a song firing shots at her rap rival, whose real name is Danielle Bregoli, called 'Went Out Bad, Bhabie'.