Are Aitch and Chicken Shop Date's Amelia Dimoldenberg dating?
11 March 2022, 16:18 | Updated: 12 January 2023, 14:54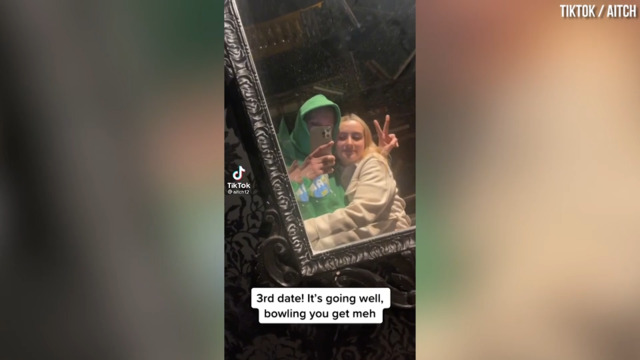 Aitch appears to confirm relationship
Are they dating? Is it real? Here's an insight into the rapper and social influencer's relationship...
Aitch and Amelia Dimoldenberg have sparked rumours that they're dating after sharing multiple videos of them out on dates, and now IT'S OFFICIAL 💗.
The 28-year-old Chicken Shop Date host seemingly confirmed that she is in a relationship with the War rapper, after sharing a picture on her IG story of them during their date using the pink heart emoji.
Whilst some fans have speculated that the romance is fake and to help promote his latest single Baby, the pair are fighting off rumours and enjoying their time together.
Here's everything you need to know about the couple...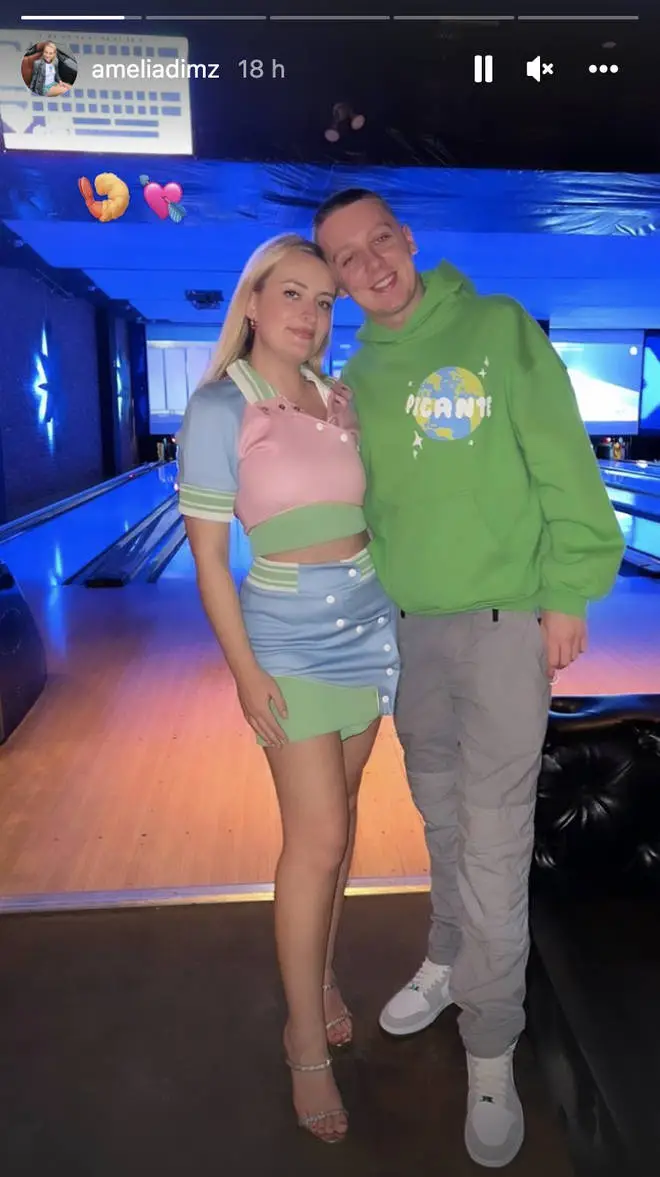 Amelia appears in Aitch's new music video for single 'Baby'

After releasing his new song 'Baby', in which he samples Ashanti, Aitch fans are convinced the pair are dating,

In one verse, Aitch raps the lyrics: 'I'm just trying to live my life / I can't even leave without her giving me the eyes / babe it ain't my fault / gotta focus on what's mine / take it easy, give me time'

Amelia also makes a special appearance in the music video for the hit at the 3.17 minute mark. Watch the video below.

Aitch, Ashanti - Baby (Official Video)

Amelia addresses Aitch dating rumours in an interview

Amelia has opened up about her relationship with Aitch in a recent interview.

When asked about what's going on with Aitch, Amelia responded: "We're hanging out...like him, a lot. He's great, have you met him?"

When asked what she loved about Aitch so much, the YouTube star responded: "I think that I love that he loves me so much."

"It's nice when somebody pays attention and is interested in you and stuff, right?" she added.

Amelia leaves a cute comment under Aitch's pic

Amelia gushed over her new beau in his most recent IG post days after their TikTok date went viral, revealing she was the mysterious girl he was cuddled up with.

Captioning the selfie "Sat waiting for "BABY" to drop like..." referring to his latest single 'Baby', Amelia replied to the photo commenting "Ooooooft" with a heart-eye emoji.

Amelia gushing over Aitch in his comment section.

Picture: Instagram

First official date

Aitch took Amelia out for a milkshake on their first date, which was previewed on TikTok, but he kept her name disguised. Aitch took Amelia out for a milkshake on their first date, which was previewed on TikTok, but he kept her name disguised.

The Buss Down rapper went on to upload a compilation video of him and Amelia looking really close and cute on their bowling date, indicating that things between the two had clearly worked out. Aitch passionately fed Amelia with a spoon in one of the clips before raising a toast with their shots.

'You guessed it,' he captioned the video. 'F*** off now,' she said, before sharing a sweet selfie of the two of them.

The BRITS 2022

During the BRITS 2022 backstage red carpet event, Aitch asked Amelia is she wanted to be his girlfriend to which she replied "I feel like I should get to know you first".

The rapper then gifted her with a plaque for hitting a new milestone of followers on her YouTube channel, to which the host couldn't help but blush. Awwww.

Chicken Shop Date

AITCH | CHICKEN SHOP DATE

In June 2019, Aitch appeared on Amelia's Chicken Shop Date series, where she interrogated him about his love life.

The hilarious YouTube star, which has over one million subscribers, interviewing celebrities such as Louis Theroux, Ed Sheeran, and Dave was curious to see if Aitch was a con artist and was quite aback to see that he was 'texting zero girls.'

The spark between the two instantly have fans talk, and this is where the dating rumours began.