Aitch 'GSD' lyrics meaning explained
13 August 2021, 15:45 | Updated: 12 January 2023, 14:52
What are the lyrics to Aitch's song 'GSD'? What do they mean?
Aitch has dropped off flashy visuals to his new song "GSD". The Manchester rapper gives his fans a house tour while rapping his bars.
Back in June, Aitch released his single "Learning Curve" and has now blessed his fans with another track.
Produced by Chekz, WhyJay, and LiTek, the track sees Aitch rap about his life, money, women, his street rep, and more.
Here's a lyric meaning breakdown to the song 'GSD'.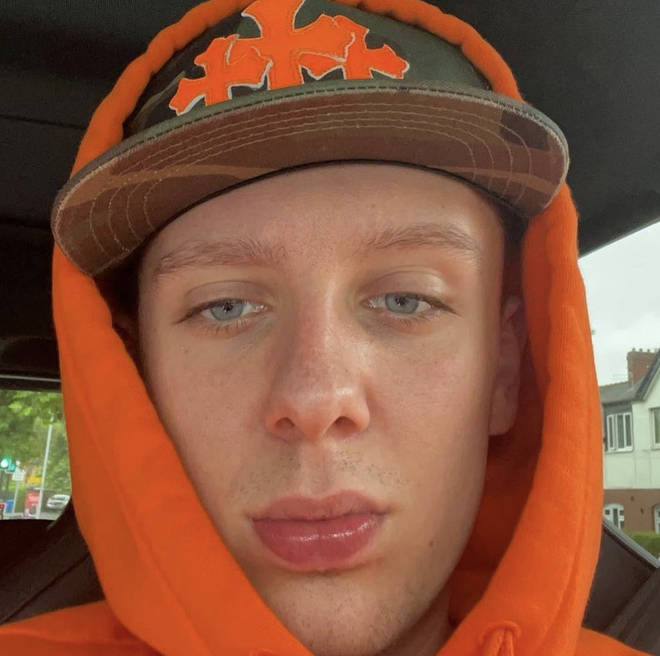 "Being from the M, a couple cut-ins and some guns are bustin'/Half a ticket for a crib I don't live in, I just come to f**k in"
Aitch signals to his hometown of Manchester, New Moston, which he often reps in his raps. He raps about it being a rough area, but now he's able to rent a lavish house he doesn't even live in. He refers to doing sexual acts in the house.
"No talking, I'm like Stormzy's mate"
In this bar, Aitch references fellow artist South London MC Stormzy and his friend Flipz.
Flipz is Stormzy's friend and publicist. The rapper mentions him in in several songs such as;
"Shut Up": Food in the ends like there ain't no drought/Flipz don't talk like he's got no mouth
"Ask Flipz": Them man talk shit, nobody asked you cuz' (Who?)/Ask Flipz, don't even tark too much (Behave)
"Vossi Bop": Chicks tryna get my brother Flipz to share his thoughts/I think he's tryna tell me I should tell her he don't talk
"Hit the thickest chick in Paris singing Digga's adlibs (Hahaha)/Had her coming screaming "Woi", I went and did a madness"
Aitch expresses he likes curvy women again, like he does in his 2021 single 'Learning Curve'. He referencing Digga D's 2021 song 'Woi' by saying that's what he said when he had sexual interactions with the woman.
"Doors on the spaceship come electric like the front gate/Splash on what I need to keep my family from the streets"
Aitch gives a nod to his lavish lifestyle, rapping about the doors on his car. He also brags about his electric gate at the front of his house.
The rapper also says he's giving his family money for what they need so they do not resort to making money on the roads.
What are the full lyrics to Aitch's song 'GSD'?

[Intro]
(WhYJay)


[Verse 1]
Yo, slammed out the SVR, it look like Hulk or suttin'
Spent this money to live comfortably, I don't stunt for nuttin'
Culli cost a quarter, couldn't insure it 'cause I'm young and bussin'
Keys for all the cribs but for the Urus, I just push the button (Woo)
Little p**sy said he looked for me, he must be bluffin'
Being from the M, a couple cut-ins and some guns are bustin'
Half a ticket for a crib I don't live in, I just come to f**k in
Double for my mumzy's, hundred-thousand, boy, that's under budget
[?] for couple Z's, we're 'bout to hit the M-way
Took the roof up off the Bentley 'cause I need some headspace
But f**k a coupe unless it's [?], I fuck with Bentaygs
Forty-thousand feet up on a jet plane, I can't hear what them say (Hahaha)
Still breezin' through on Moston Lane
Rollie cost a box of caine, me and you are not the same
Need that Prezi with the chocolate face
Never had no enemies, hit fame now I got opps for days (Yeah)
No talking, I'm like Stormzy's mate
Stalking when she saw the cake
Rollie cost a quarter Wraith (Yeah)
Walk with me through all the pain
Pull up, blowin' ganja, screamin' "Sorry if I'm sorta late" (Woo)
Get the bag, put half away, and then we go again
Tell a rapper "Test me, you won't have a show again"
Woke up feeling kosher, hit the roads and go and blow a ten
These p**sies think they're goats, I'll give 'em hope if I ghost again

[Interlude]
Yeah


[Verse 2]
Hit the thickest chick in Paris singing Digga's adlibs (Hahaha)
Had her coming screaming "Woi", I went and did a madness
Put the p**sy on repeat, I think that thing's attractive
When I'm done pushin' on her cheeks, I tell her "Fling it backward"
Put the footage on a screen, it's f**kin' cinematic
Then she suck it like she mean it, this one been a savage (Ooh)
Them likkle rubbers ain't convenient, need a bigger jacket
But honestly, the p**sy's so sweet, I didn't think to wrap it (Ha)
Driveway look like a runway
Doors on the spaceship come electric like the front gate
Splash on what I need to keep my family from the streets
So I got cameras in the trees, a couple [?] on some gunplay
I heard your tune, it's all white noise
Youngest in charge 'cause every move I make's my choice
But still, I ask myself the same questions every night
"Is my music gonna bang and does Snoochie like white boys?" (Hmm)
'Bout my business, I've never been one for clout
Stayed on top for four years, I ain't ever been on a drought
Made some money off my music, invested to spread it out
Couldn't give a f**k who you think the best is, I'm gettin' pounds