21 Savage Claps Back At Fan Who Trolls Him For Being Born In The U.K
12 June 2019, 17:31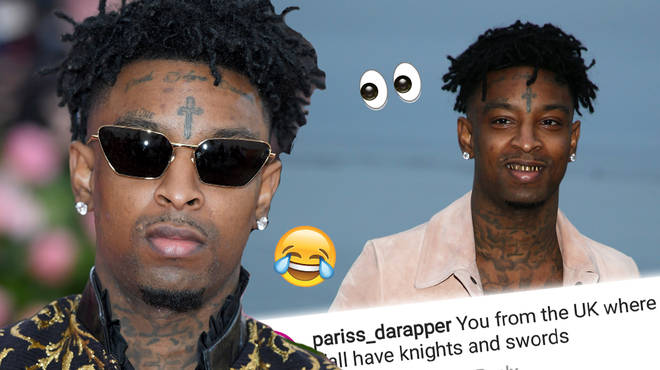 21 Savage has clapped back at a fan who trolls his U.K nationality, which was discovered through his ICE arrest earlier this year.
21 Savage was trending for days earlier this year following one of the biggest controversies on social media. It became public knowledge that 21 Savage was born in the U.K after he was detained by ICE.
The Newham-bred rapper who moved to Atlanta at a young age, is being trolled for his UK nationality by a fan. The "A Lot" rapper has defended himself and clapped back on Instagram.
On Tuesday (Jun 11) 21 Savage took to Instagram to share his cover photo for Paper Magazine. The rapper captioned the photo: 'I'm from the east we don't wear diamond grill we slugged up'.
A troll quickly commented on the photo and pointed out that the rapper is from the U.K.
An Instagram user wrote:"You from the UK where y'all have knights and swords," underneath 21 Savage's Instagram post.
The rapper clapped back in the comment section and clicked onto her profile. He clapped back saying "@pariss_darapper you a truck driver and you a rapper". 
21 Savage referred to her bio with her job title and commented using a facepalm and three crying emojis.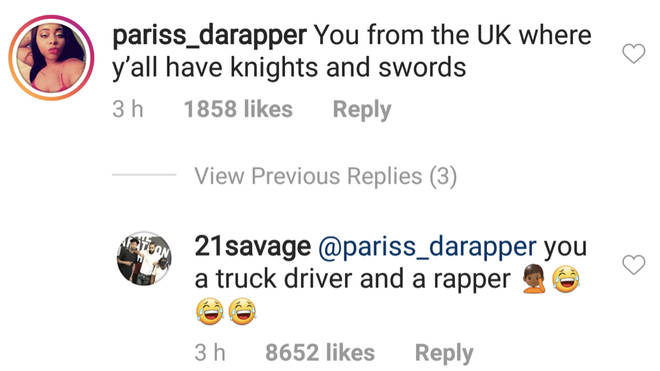 The rapper takes the UK trolling lightly most of the time and admitted some of the memes on social media. However, he was not about to let this trolling opportunity slip out of his hands.