21 Savage Finally Speaks Out In First Interview Since Surprise Arrest
15 February 2019, 18:09 | Updated: 15 February 2019, 18:15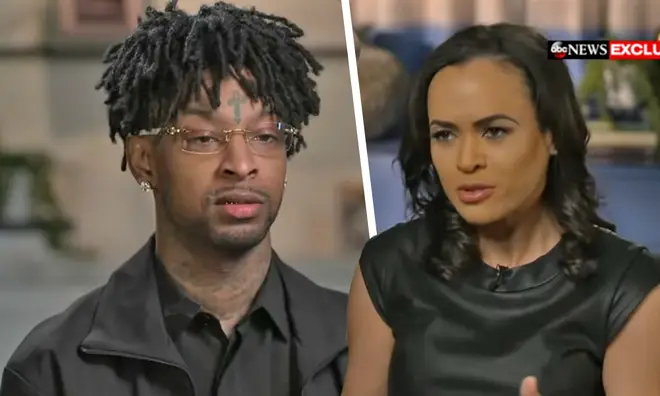 21 Savage was arrested by ICE recently and appeared to be threatened with deportation to the UK - now he's spoken out in his first interview since.
21 Savage has had a rollercaoster 2019 so far. After being stopped in a car with two other men, the 'a lot' rapper was arrested and threatened with deportation after it was revealed he was actually a British citizen whose U.S visa had run out.
Now he's spoken out in his first interview since being released from jail following his arrest and he's claimed that he was "definitely targeted" by Immigration and Customs Enforcement (ICE).
21 Savage says he was 'definitely targeted' by ICE
Explaining what happened when he was arrested, 21 Savage told Good Morning America "I don't even know. I was just driving and I just seen guns and blue lights and then I was in the back of a car and I was gone."
When he was asked if the police had told him he was under arrest, 21 Savage replied, "Nah they didn't say nothing. They just said 'We got Savage'."
Stating his claims that he believes his arrest was targeted, 21 Savage said, "It was definitely targeted."
After being released on a reported $100,000 bail, 21 Savage's reps released an official statement which read, "He will not forget this ordeal or any of the other fathers, sons, family members, and faceless people, he was locked up with or that remain unjustly incarcerated across the country and he asks for your hearts and minds to be with them."
> Download Our Free App For All The Latest Music News!