Nipsey Hussle Labels Tekashi 6ix9ine 'Clown Sh*t' In Savage Interview
12 March 2019, 13:14 | Updated: 12 March 2019, 13:23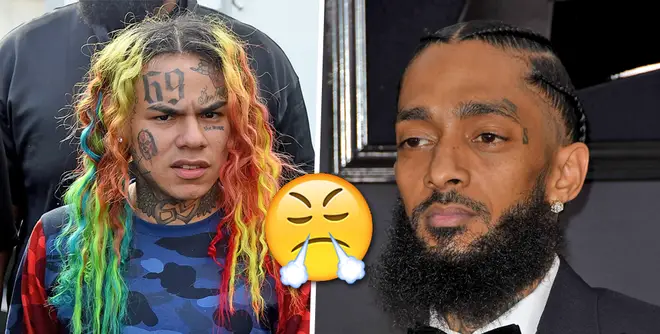 Nipsey Hussle was talking to Big Boy TV when he was quizzed about how the public react to rappers like Tekashi 6ix9ine.
Following his arrest, a number of rappers have spoken out against Tekashi 6ix9ine, including Bobby Shmurda who recently revealed why he'd never wotk with the 'Dummy Boy' rapper again.
Now Nipsey Hussle has opened up on his thoughts about 6ix9ine and he told LA's Big Boy TV that he felt the rainbow haired rapper was "clown sh*t".
During the interview, Nipsey was asked about 6ix9ine to which he responded, "The public should not even react to clown sh*t. The public should follow the real n***as, if the real n***as ain't reacting so y'all don't react."
He went on to say, "Put the dude on goofy time and just let him sit over here doing what he doing till that sh*t expire, cause it always gonna self-destruct, clearly."
It's the first time Nipsey Hussle has spoken out about Tekashi 6ix9ine and the pair aren't known to have a history. 6ix9ine is currently in jail awaiting trial for multiple charges including racketeering.
The public slam from Nipsey Hussle comes just days after Migos rapper Offset reflected on 6ix9ine working with the police during his Big Boy TV interview.
During the chat Offset said, "You choose the streets and you go left on the streets, your safety is a problem now because you chose the streets"
Nipsey Hussle is set to perform his first UK show in years at South London's The Ends Festival 2019 in Croydon this year, so fans will finally be able to see the rapper live in the flesh once more.
> Download Our Free App For All The Latest Tekashi 6ix9ine News!